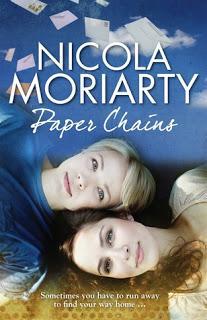 The Plot: Living in London and working behind the counter at a Museum's store was not exactly where Hannah planned to be in her late twenties, but she doesn't have much to choose from since she ran off from her life in Sydney and doesn't want to think about or remember what she left behind.
Meeting fellow Australian India one day at the Museum, and later at the park was a surprise, as Hannah doesn't believe she deserves friends, or fun or anything good happening to her, but India is around to stay - for a while at least.
See, India likes to fix people, she has been doing it for the past year, traveling from place to place, staying a few days, maybe a few weeks, fixing people and moving on. So she's determined to find out what Hannah's story is, only that Hannah isn't as easy to figure out.
Through out their interactions, little pieces of both women's pasts start to come out to the light. For India also has her own secrets that she slowly doles out as she writes love-letters to a guy she meet in Greece, and sends them in a very unconventional fashion.
First Date: I'm not sure if I like India or Hannah but I can't put this book down. Hannah is a bit of a martyr and India is a bit too much - I'm starting to suspect India is a manic pixie dream girl and MPDG is my second most hated female archetype, only behind TSTL- but I'm intrigued. Love the snippets about the letters India writes, though.
Second Date: Okay, gut me why don't you? Oh, Hannah, now that I know what you did and why, you make a lot more sense. Some of it hits a little close to home, so I kind of get it. I'm liking India a little better, she's still a little too MPDG for my taste but she tells Hannah what she needs to hear, much as it hurts. I'm suspecting her secret already, though.
Third Date: Twist the dagger a little more, why don't you? Honestly. What is it with Aussie authors that take my heart, tear it into a million little pieces, make me cry like a baby and yet I keep coming back for more? WHY MUST YOU AUSSIE AUTHORS? WHYYY???!!
Relationship Status: I CAN'T QUIT YOU!!
Okay, drama aside, Paper Chains was quite brilliant. I couldn't put it down because from about page two I became so involved with Hannah and India and even when I didn't like them I couldn't help myself and I couldn't leave them. I had heard from fellow blogger Inkcrush that Nicola Moriarty was a terrific writer and the girl got mad skills, let me tell you. In so many ways Paper Chains is such a quiet novel but the drama and the heartbreak are based on such every-day/commonplace things that it just hits you, you know? how easy it is for things to go wrong.
I don't think Paper Chains is a perfect novel, but it definitely has reading crack and, unless Moriarty decides to start writing Twilight fanfiction, I can't imagine a future where I don't keep reading her stories.
Please note that Paper Chains is currently only available in Australia (wherever books are sold). This side of the pond it's available via Fishpond World. 




1/2


What's a Book Speed Date, you ask? It's a quickie review--about 150 words or so--of any genre book (variety is the spice of life, after all).
If you want to join in or just read other speed date reviews, check out The Book Swarm