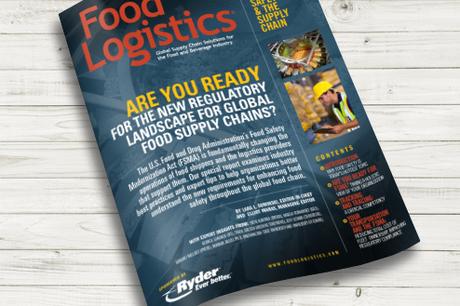 If the new Food Safety and Modernization Act (FSMA) can be summarized in a single phrase, it will transform the food supply chain from reactive to proactive – preventing food safety problems rather than reacting to them after they occur. That's the takeaway from "Food Safety and the Supply Chain," a new special report from Food Logistics magazine sponsored by Ryder, on the new regulations and powers of the U.S. Food and Drug Administration (FDA) and their impacts on food supply chains across the country.
The FSMA, signed into law on January 4, 2011, represents the most sweeping reform of the FDA's food safety authority in over 70 years. In an expansion of FDA powers across the supply chain, the Act focuses on five key areas of food safety: preventive controls; inspection and compliance; imported food safety; response; and enhanced partnerships.
As a result of the new law, companies are re-evaluating their processes to meet current requirements, prepare to incorporate the next wave of regulations, and embrace Good Manufacturing Practice (GMP) procedures and Hazard Analysis Critical Control Point (HACCP) plans.
Meanwhile, industry innovation, long-range investment plans and collaboration are gaining importance among leading supply chain partners seeking to ensure safety and improve total cost of fleet ownership. Investments include those made in fuel-efficient, temperature-controlled equipment and fleets; warehousing and packing facilities; software and technology; and highly-trained personnel.
"The transportation and logistics aspects of any food supply chain are among the most critical functions for supporting and enhancing food safety," wrote the authors, who cited food logistics industry experts and academia. "The U.S. Food and Drug Administration's Food Safety Modernization Act is fundamentally changing the operations of food shippers and the logistics providers that support them."
Learn more by reading the full special report, which examines industry best practices and expert tips to help organizations better understand the new requirements for enhancing food safety throughout the global food chain. Click below to download your copy now.