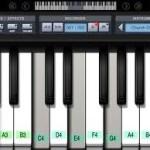 Students in NY are coming together to learn music. Not such a ground breaking story, but the difference is these students have varying degrees of autism and  normally have challenges in communicating and concentrating. Not exactly the norm for school bands but with the use of apple iPads these students are creating and performing complex pieces.
Music teacher Adam Goldberg is thrilled with the progress he sees in his students.
And beyond the physical constraints the iPad has helped lift, Goldberg says he's  witnessed a social phenomenon occur in his classroom. Students who traditionally  had issues communicating their wants or needs seemed to suddenly be unlocked by  their music, expressing themselves creatively. "I see them supporting each  other. They compliment each other. They help each other out," Goldberg told  FoxNews.com. "It is just magical, really a beautiful thing to see."
Not only have they been able to learn musical concepts but the iPads let them improvise their own pieces. The students at  P177Q in Queens, are selling a few pieces as a school fundraiser. You can purchase their music through iTunes here.
Fox news has even shown up to cover these autistic composers. You can see their coverage here.
twitter @justfundraising
Our justfundraising FB page