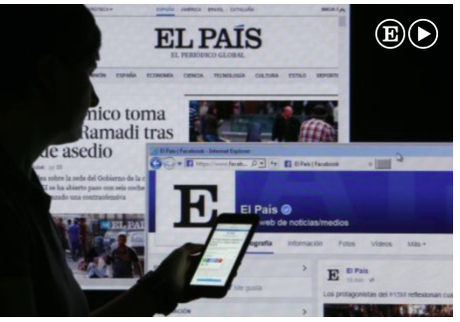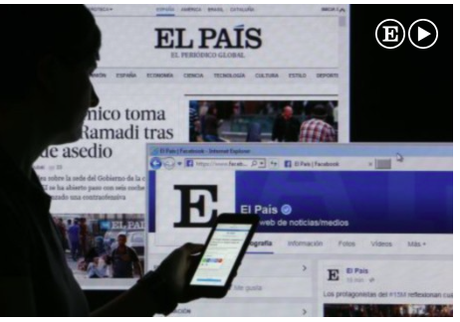 Digital transformation for Spain's El Pais (image courtesy of http://tecnologia.elpais.com)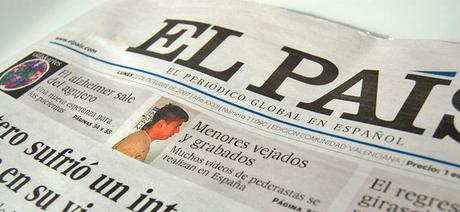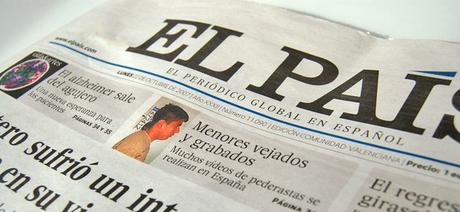 I am an avid reader of El Pais of Spain.  It is part of my daily newspaper routine and, in my view, it serves me in Spanish the type of journalism that The New York Times offers me in English. Both are excellent in unique, authoritative and credible journalism. With El Pais I get informed about Spain, Latin America (especially Cuba) and the European Union.  More than that, and just like the Times,  El Pais offers me original, splendid and often surprising coverage of culture, science and technology. El Pais, like the Times, is an erudite newspaper. Both make their readers smarter.
El País is also the best read Spanish language newspaper in the world. It publishes a global edition for Latin America.
My initial interest in El Pais --=when it first published in 1976--five months after the death of Franco , was purely about its clean, minimalist and typographically excellent design. I still think that this design was perfect for what was a period of transition in Spain, following a stern dictatorship. Its design has not changed much through four decades. It is still a precise, elegant look, more Germanic than Spanish in its execution (its original design was created by the German designer Reinhard Gäde), a design that has served its readers well, a probable reason why a couple of commissioned redesigns (one of which I pitched for but, unfortunately, did not get) remain in a drawer somewhere.
Again, another parallel with The New York Times is that both newspapers seem to remind their readers that, visually speaking "we are what we are and we are not going to change it."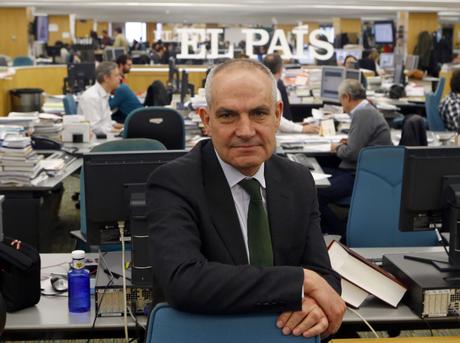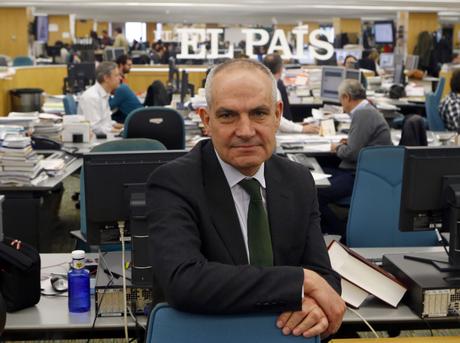 Antonio Caño, editor of El Pais, outlines his newspaper's full transition to digital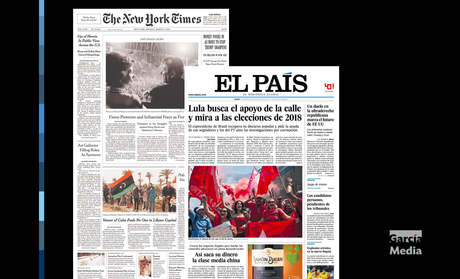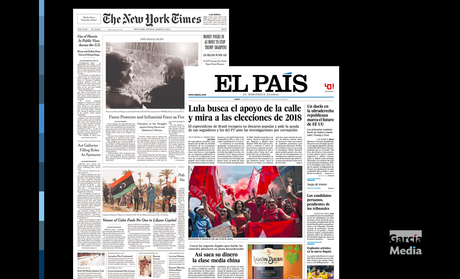 If I am ever stranded on an island, these are two dailies I'd like to receive!
El Pais continues to be the biggest-selling printed newspaper in Spain. However, like many other newspapers, it is seeing its circulation decrease.
Like The New York Times the past two years, El Pais  is now embarking in the implementation of a very specific digital transformation and that is what the letter from Antonio Caño to his team is all about.  You can find the entire letter here: http://elpais.com/elpais/2016/03/04/inenglish/1457078700_070078.html
Highlights:
"Confusing outlook"
"The revolution that is affecting the media has still not concluded, and the outlook is very confusing. The crisis, most likely, has not yet hit bottom. The migration of readers from print to digital is constant. We can already assume that the habit of buying a newspaper at a newsstand is now the thing of a minority. The majority of people, in particular youngsters, look for their information on a range of different devices and they consume it in a different way.
"Cell phones"
"The massive transfer of web readers to cell phones, as well as the appearance of new portable devices and of recent threats such as ad blockers, together with those that are more well known, such as an engrained culture of not paying for content, make the horizon in the terrain of new media very complex too.
"El Pais: essentially digital newspaper"
"Over the next few days, the first phase of the refurbishment work in the new newsroom will be complete, and with it will arrive the moment when EL PAÍS will become an essentially digital newspaper; in a great platform dedicating to generating content, content that will be distributed, among other formats, in the best printed newspaper in Spain."
"Synchronization of teams"
We are going to move on from what the sector has described as "integration of newsrooms" to a new system of synchronization of teams and channels. We are going to introduce modern communication tools that can respond quickly and with a high quality to the demands for transparent information from an ever-more demanding society in terms of the task they have given us.
"The print edition"
"We are fully committed to continue publishing a print edition of El Pais, of the best quality, as long as it is possible."
TheMarioBlog post # 2121
Please enable JavaScript to view the
comments powered by Disqus.
comments powered by

Disqus