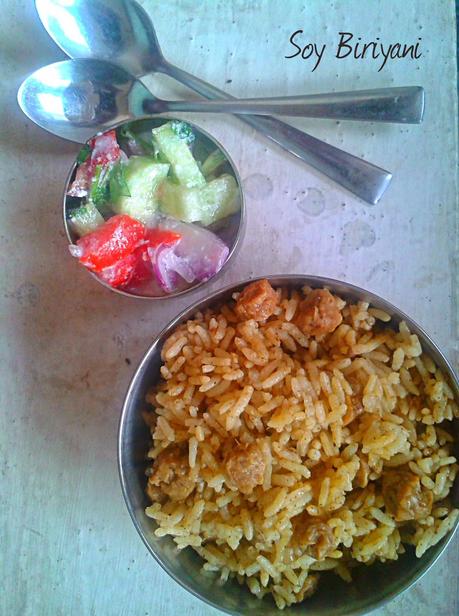 Soy Biriyani - with instant biriyani mix - Review
This is my review of an Instant Biriyani Mix - called Maharaja Biriyani Paste. I have a friend who makes biriyani with this paste and I simply love it. It has the maggi masala's taste. I tasted it many times and decided to give it a try. It was very tasty. I decided to write a review on the same.
I made the biriyani as per the instructions on the pack and finished my cooking fast.
Ingredients:
Maharaja Biriyani Paste- 1 pack
Rice- 500 g
Soy chunks- 200 g
Oil- 3 tbsp
Water:- 1000 ml
Method:


The look of the pack and the inner packing.
Price: Rs 32 for a 100 g pack.


Soak rice for 30 min, wash, drain and set aside.
Heat a pressure handi with oil.
Fry onions and add the biriyani paste.
Add 1000 ml water.


Add soy chunks(un soaked) and let the water boil.
Once the water begins to boil, add rice and pressure cook for 3 whisltes.
Open the handi after the pressure comes down.
Gently stir and serve hot with cucumber tomato raita (Read below).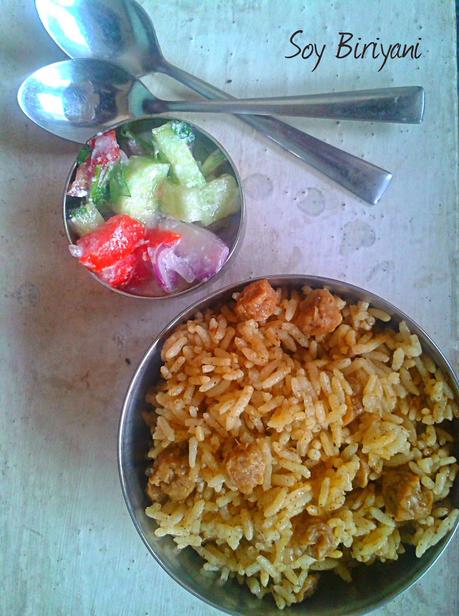 For the Cucumber Tomato Raita:

Chop cucumber, tomato, onion, coriander leaves and mix well with salt and lemon juice. Add curd and mix well.




Enjoy