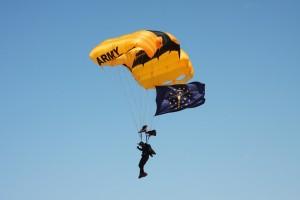 US Army Golden Knights: One of the Acts Set to Perform at South Shore Air Show at Fair Oaks Farms Before its Cancellation
Fair Oaks Farms and the South Shore Convention and Visitors Authority
has announced that the big air show originally set for July 11 — July 13, 2014.
After all the hours of work and preparation, as well as the building excitement of what was sure to be a massive event here in Northern Indiana, it must be a huge letdown for the folks behind the organizations as well as air show performers.
South Shore Air Show at Fair Oaks Farm CANCELLED
Why was the South Shore Air Show scheduled for Fair Oaks Farm cancelled? Well, anyone in Northwest Indiana knows the answer to that!
Unfortunately, we've had so much rain! Buckets and buckets and buckets of rain. The flooding has destroyed the plan for parking the estimated 50,000 — 60,000 person crowd. No other alternative could be found and, rather than continue with a sub-par event and complicated solutions, they have decided to cancel it altogether.
According to a statement by Gary Corbett, CEO of Fair Oaks Farm taken from the just-issued press release, 'the farm has withstood an unforeseeable amount of rainfall, more than 5.6 inches in the last week, 10 inches in the last 30 days and more expected in coming days, which has caused widespread flooding. Corbett explained that without the guarantee of the weather conditions needed to allow the land to dry, it is unlikely the flooding would evaporate in time for the event.'
But, it's not all gloom and doom.
The South Shore Regional Car Show will still take place at Fair Oaks Farms on Thursday, July 10, 2014 as previously planned.
Fair Oaks Farm Air Show Event Ended
It doesn't mean the fun is completely over! Fair Oaks Farms is still open for business and the South Shore CVA has plenty of great things to do in the area, too.
If anyone can deal with a disappointing situation like this, you know it's a Hoosier! Hopefully it is something they may consider trying again in the future! Let's hope Mother Nature plays nice next time.
Small Towns: Destinations, not Drive-Thrus! I'm Jessica Nunemaker and THIS is little Indiana!
Find pictures in Indiana on my Flickr photostream or on the new little Indiana Tumblr blog.
Just don't forget to tell 'em that  little Indiana sent you!
Don't miss a moment. Subscribe to little Indiana and receive instant updates to stay on top of everything "little."
little Indiana: Where to Stay, Play, and Eat in Small Towns in Indiana. Discovering Indiana's best small towns! Now get little Indiana on your Kindle.
Targeted. Relevant. Affordable! little Indiana advertising.