[Rated: 3.5/5]
South Indies is a restaurant that serves South Indian vegetarian fare. It currently has two outlets in Bangalore. I must have crossed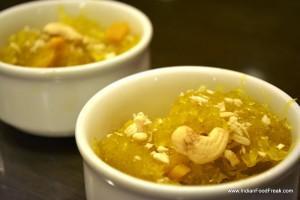 the building that houses South Indies, Indiranagar at least a hundred times in the last three years. There have been times when I've really wanted to go in, but didn't, and now I wonder why.
I finally visited South Indies for dinner last week. I entered the restaurant and it had this strange damp smell in there. The upholstery was dirty; there was just nothing impressive about the décor. The ambience in a way had set my expectation lower than I had hoped for. But then, I was proven wrong.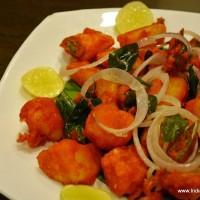 I began my meal with
Thakkali Chaaru
(Rs. 100), which is a mildly spiced tomato soup with just a hint of ginger and curry leaves. The soup was perfect in terms of balance of flavours. I tried the
Dumpala Kaaram
(Rs. 140) for starter, this dish had batter dipped potatoes, deep fried and tossed in spices. I liked the fact the batter was thin enough to just coat the potatoes, and the spices were in no way overpowering.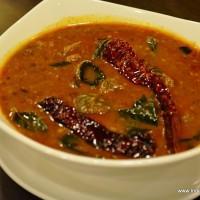 Moving on to the main course, I tried the
Kai Kari Stew
(Rs. 205),
Appam
(Rs. 30),
Kal Dosa
(Rs. 30) and
Mavinakai Menaskai
(Rs. 205). Stew and Appam is a classic combo that's always a hit if made the right way. Here, both the Appam and Stew were bang on in terms or texture and the flavor. The Mavinakai Menaskai came as recommendation from the guy who was serving us and I am so glad we tried it. This curry has chunks of raw mango which is cooked in sesame and coconut based gravy with just a little bit of jaggery in it to kill the sourness of the mangoes. I tried this curry with Kal Dosa which helped me nicely mop the curry off my plate.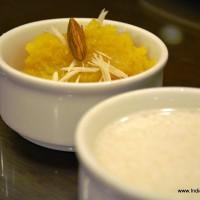 For dessert I tried the
Badam Halwa
(Rs. 175),
Elaneer Payasam
(Rs. 175) and
Kasi Halwa
(Rs. 130). The Badam Halwa, which is a South Indies specialty, was well made. Kasi Halwa which is made from white pumpkin, with a hint of saffron was the star of this course for me. The only dish that I felt wasn't up to the mark in my entire meal was the Elaneer Payasam; I felt the milk needed to boiled slightly more than it was.
This meal, I felt, was probably the best of South Indian food I've tasted in Bangalore. I only hope the restaurant works on the ambience a little so it becomes the 'to go to' restaurant for people.
Food: 4 | Ambience: 2 | Service: 4 | Overall: 3.5
Meal for two: Rs. 800+ VAT for two| Alcohol: No | Credit Card: Yes | Timings:- 11:30 AM to 3:30 PM, 7 PM to 11 PM
Address: 840/A, 100 Feet Toad, Near CMH Road, Indiranagar, Bangalore | Phone:  080-41636363 & South Indies, Chevron Hotel, 147, Police Commissioner's Office, Infantry Road, Bangalore | Phone: 080-41636362