Manila Bay – On the evening of 6 May, 1942, hours after US Army General Jonathan Wainwright surrendered all US and Filipino forces on the island of Corregidor and other fortified islands in Manila Bay to the Imperial Japanese Army, 18 US Navy sailors from USS Quail (AM-15) began their daring escape to freedom. Using a 36 foot motor launch, the 18 sailors, led by Lieutenant Commander John Morrill began their 2000 mile journey through Japanese infested waters.
The story of their escape, is told in a book titled, South From Corregidor. It was written by Lieutenant Commander Morrill less than a year after the escape.
South from Corregidor is a true story of great audacity, where the generosity and bravery of the Filipino people, along with sheer luck played an integral role in the outcome of events.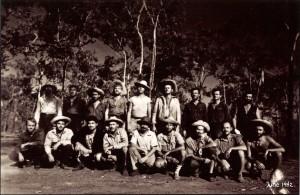 Boat Crew USS Quail
After a two year effort, my brother and I, with the help of the last surviving member of the boat crew (as they called themselves) and the Admiral's (Morrill retired an Admiral) daughters, republished South From Corregidor. It is as Lieutenant Commander Morrill wrote it. Thirty-nine maps have been added to help show their journey, as well as six illustrations that were part of a Saturday Evening Post article written about the escape in December 1942 and January 1943. In addition, an Addendum is included that tells what happened to the 18 sailors.
Thank you,
Tim