TAKEAWAY: In Austin, Texas, at South by Southwest, discussing storytelling in the tablet and presenting results of the Poynter EyeTrack: follow updates in this weekend blog.
This is the weekend edition of TheMarioBlog and will be updated Friday afternoon and later as needed. Next blog post is Monday, March 11

Texas' capital city of Austin hosts the SXSW conference
It is Friday and today I do a presentation at this incredibly fascinating event that is South by Southwest, a gathering of people from around the world with common interests in technology, music, media and assorted other topics. The South by Southwest® is all about the convergence of original music, independent films, and emerging technologies.
It is my first time here and I join my colleague from the Poynter Institute for Media Studies, Sara Quinn, along with Dave Stanton, of Smart Media Creative, as we present a session titled, Lean Forward, Lean Back: Tablet News Experiences  about the results of Poynter's EyeTrack Tablet research.
I will do a short version of my Storytelling in the Age of the Tablet presentation, dealing with the conceptualizing and designing of tablet apps, before we present the findings of the Poynter study.
Preparing for what is a short 15-minute presentation has been good training, indeed. Normally my presentation is 45 minutes, so I had to discipline myself to narrow down to what is truly the essentials, and it came down to four centerpieces: storytelling, navigation, pop ups and look & feel. 
SXSW® calls itself "the premier destination for discovery."
And discovery of the new and our ability to change to adapt is what it is all about. My presentation will emphasize the importance of being open to change, something that I am certain is what makes participants of South by Southwest thrive.
I am looking forward to this afternoon's presentation and to what I know will be an eclectic audience that is a change from the usual group of publishers/editors/designers.  I will update this weekend blog after the presentation, and I am sure that you will be able to follow my chat via Twitter.
SND

competition: follow up

Our three-part series SND Competition and Infographics, which ran the week of Feb. 25, continues to stimulate the discussion. I still receive passionate emails from people who would like to keep discussing the competition, and not just Infographics, but other categories as well, and also other SND-related topics.

While I appreciate your interest, and thank you for your enthusiasm about the series, I am asking that you direct your comments and queries directly to the SND folks, starting with current president, Rob Schneider, executive director, Stephen Komives, and competition coordinator Melissa Angle.

Like you, I believe that the conversation we started in this blog is pertinent and needs to be continued. Good luck.
Our
SND

blog posts:

SND & Infographics: Part 1

http://garciamedia.com/blog/articles/psnd_amp_infographics_is_it_tougher_to_win_today_p/

SND & Infographics: Part 2

http://garciamedia.com/blog/articles/psnd_amp_infographics_what_are_solutions_to_improve_competition_p

SND & Infographics: Part 3

http://garciamedia.com/blog/articles/psnd_amp_infographics_a_tale_of_two_entries_p/

SND contact:

Executive Director Stephen Komives at
Coming up: Project Nostalgia
As readers of this blog know, my first newspaper project outside of the United States was La Nueva Provincia, of Bahia Blanca, Argentina, in 1980.
This week I prepare to return to Bahia Blanca as I make my first visit back since the original redesign: this time we will look at how La Nueva Provincia will rethink itself to adapt to the many changes necessary to be part of the media quartet.
Working side by side with me on this project, Rodrigo Fino, of our Garcia Media Latinoamerica office in Buenos Aires, with Paula Ripoll as senior art director for the project.
Our earlier blog post about La Nueva Provincia:
http://garciamedia.com/blog/articles/40_years_40_lessons_7._abroad
Where's Mario until March 21, 2013?

Mario's upcoming speaking engagements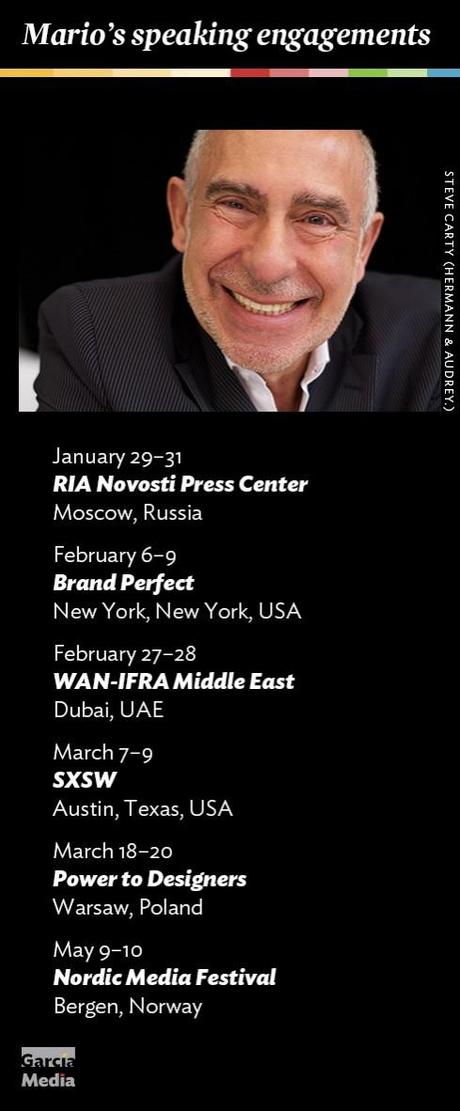 Take advantage of our iPad Design/Ad Lab workshops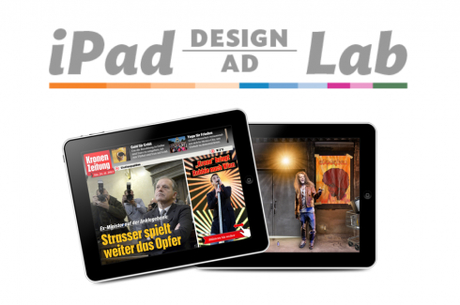 Do you want to take your brand to the next level by creating a tablet edition? Garcia Media can help. We now offer one- to two-day iPad Design Lab workshops on demand to jumpstart your presence on this exciting new platform. We also offer iPad Ad Lab workshops to develop engaging advertising models for your app. Contact us for more information.

Purchase the book on the iBookstore
iPad Design Lab has been given the
QED

 Seal
TheMarioBlog post #1210