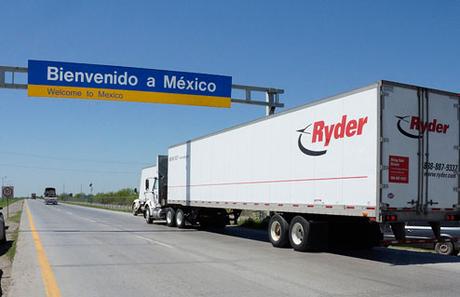 Imagine a birds-eye view of a freeway at rush hour in any major American city, as the lanes fill up with every conceivable make and model of automobile.
There, in the resulting gridlock and traffic snarls, you see people making their way home in all the popular auto brands: Nissan, Honda, Toyota, Ford, Chrysler, Volkswagen, General Motors, Volvo, and Mazda, to name a few.
What you may not see are the changing sourcing decisions, manufacturing practices and supply chains behind the scenes, bringing those vehicles to market. Or, the fact that more and more of those vehicles are being made in and exported from Mexico.
What's Fueling the Boom?
The near-shoring revolution fueling the boom in auto assembly in Mexico is driven by several factors. One is the changing cost-benefit calculus of manufacturing in Asia. Given the rising labor and cargo fuel costs, a shrinking workforce and challenges with infrastructure, quality and intellectual property, offshoring makes less sense for many manufacturers.
Meanwhile, parallel forces are fueling a boom in Mexican auto manufacturing. These include a skilled yet inexpensive labor force, sophisticated technology, a growing utility infrastructure, inexpensive land, duty-free imports, proximity to the U.S., government incentives and lower tariffs, thanks to NAFTA. These factors and more are inspiring automotive manufacturers to build plants in Mexico in droves. And their suppliers are either already there or not far behind.
The Numbers Tell the Story
To understand just how big the Mexican automotive boom really is, you have to look at the numbers. This year, Mexico is expected to eclipse Japan as the second largest exporter of autos. Exports to the U.S. quadrupled over the last 10 years. Output nearly tripled. Already, dozens of major auto manufacturers have assembly plants in Mexico. More are underway.
Meanwhile, some 200 automotive parts plants are up and running in Mexico, providing everything from HVAC and chassis frames to motor parts. The number of autos made in Mexico for sale in the U.S. will reach nearly 1.7 million this year. In two years, U.S. sales of autos made in Mexico could reach 1.9 million; bumping Canada out of the pole position with "only" 1.87 million in sales.
The Top Five Challenges and How to Navigate Them
These are staggering numbers. However, all is not rosy when it comes to manufacturing in Mexico. As exciting as it is, the NAFTA experience remains a work in progress. Trade has improved dramatically over the years, but not all initiatives are implemented.
Case in point: a stark shortage of U.S. drivers who travel past border points into Mexico's interior and similar shortage of Mexican drivers transporting goods into the interior of the U.S. That's not all. As Mexico continues to emerge as a strategic sourcing and manufacturing destination, reducing costs and cycle times and accelerating the flow of goods to destinations in the U.S. and Canada is crucial to your bottom line. Before you decide to source south of the border, know the top five challenges most manufacturers face and how to overcome them.
1. Lack of an efficient transportation network
Network shortages in Mexico present significant transportation challenges. In fact, LTL networks are virtually non-existent there. As a result, it can be costly and challenging to find carriers that can consolidate volumes from multiple suppliers and deliver them efficiently and economically.
To head the problem off at the pass, you'll need qualified engineering, design and route implementation resources to build/pre-build an efficient transportation network, ideally three to five years before building a production plant. A supply chain partner can help you identify what parts you'll need, your suppliers and where they're located early on - and help you get parts to your assembly plant using Lean and just-in-time principles.
2. Difficulty securing carriers, drivers and equipment
The ratio of southbound to northbound loads is currently 3:1. In other words, for every three trailers headed out of Mexico to North America, one truck goes south. This imbalance can make capacity an issue when you're exporting to the U.S. or Canada.
Getting in front of the problem means bringing other transportation modes into the equation. An alternate route is working with a partner with access to more data and customers in its network and the ability to get that 3:1 ratio closer to 1:1 by consolidating loads from multiple plants/suppliers into one network to reduce costs.
3. Inadequate transportation infrastructure
The growth in automotive manufacturing is so fast and so big that, despite major investments by the Mexican government, the infrastructure simply can't keep up. The current infrastructure in Mexico wasn't built to support the five new assembly plants that are being built and will produce 600,000 to 1 million more vehicles each year. While much of the existing infrastructure is advanced, some roads aren't in great condition, underscoring the need to find qualified partners/regional carriers who know the terrain.
The key here is to have constant access to multiple modes of transport (rail, roads, ports, air) so that you can react to unexpected detours.
4. High cost of premium/expedited freight
Shippers pay for premium or expedited freight for a number of reasons. Most have to do with breakdowns in supply lines caused by supplier errors or a failure to plan/pre-plan. What's more, many transportation lines are one-way trips, forcing shippers to pay a premium for empty miles back to Mexico. Make sure you have a shipping strategy in place to avoid incurring costly premium/expedited freight charges.
5. Cross-border wait times and security issues
Moving goods across the border from Mexico to the U.S. or Canada is an ongoing challenge, both in terms of wait times and security issues. Violence close to the border continues to pose problems. Criminal activities like hijackings, theft and smuggling remain real threats: some 1,500 freight hijackings are recorded in Mexico each year.
Many shippers run into delays of up to 72 hours because of issues with documentation or failure to handle all the paperwork and electronic filings required to cross the border. The key? Have processes in place to minimize delays and security issues or team up with a CTPAT-certified partner to help you cross the border without incident.
Get industry insights and best practices in your inbox weekly. Subscribe to the Ryder blog.