So the football seasons have ended, the Play-Offs are into their second legs, the curse of Benfica continues, and the success of Arsene Wenger's season will be known after Saturday's F.A. Cup.
For those with an Ings, Nugent, Sako or Winnall there was cause to celebrate. For others, the dream of promotion or survival has faded like the color on second-hand football seats. But through it all there have been chants - songs rising from the terraces as elation, passion, believe or protest is expelled.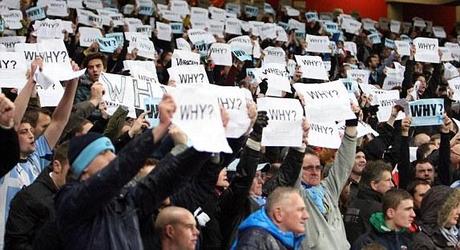 *   *   *
At nine I knew I would never fall out of love with football. My Dad took me to my first Coventry game (holding my hand just a little too tightly) and there - in a seat which would become mine for the next seven years - I found my voice. For ninety minutes the shyness slipped away and football took over. When I eventually went to my first proper away game, a last-match-of-the-season at Vicarage Lane looking for our first away win, I sang like I had never sang before.
The atmosphere on away days is like no other game - 3,000 fans in one section of the ground, all standing up and belting out song after song. At Watford (to the horror of my Dad's wallet) I caught the 'away bug'...
I've jumped to my feet singing, 'Stand up if you're one nil up,' at Old Trafford. I've mocked other teams' fans with: 'Shall we sing a song for you' on cold Tuesday nights. At forty-four football grounds I've sang 'In Our Coventry Home', and I've joined in with songs which, if my mother had heard me singing, would have resulted in a soapy mouth.
*   *   *
With simple rhyme, a splash of wit, and to a well-known or in vogue tune (after Bob The Builder topped the charts with 'Can We Fix It' there was a few choruses of 'Gordon Strachan can he fix it' at Portman Road, needless to say it didn't really take off) football songs take hold of fans, stands and stadiums across the country. They have the ability to express our pride, our joy and our frustrations; they're the thing which creates atmospheres that television (whether 3D or not) will never be able to replicate. They're 'love' songs for the beautiful game and for the teams we refuse to abandon (no matter how much they hurt us).
Thank you for reading,
Lara
Email This
BlogThis!
Share to Twitter
Share to Facebook
Reactions: