★★★★★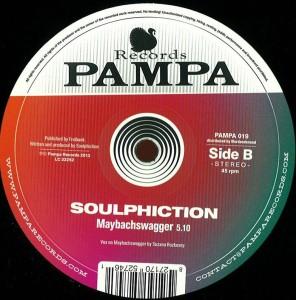 Philpot boss Michel Baumann, AKA Soulphiction, turns in a characteristically intriguing EP on Pampa, marked by nagging, repetitious loops. The title track is a big rolling beast, a peculiar amalgam of seemingly disparate – albeit simple – elements that fit together surprisingly well: a rounded, gulping bass line tumbles over wistful strings – all offset by the lo-fi clink of tropical percussion.
Baumann assumes his roughshod techno alias Jackmate on the remix, unravelling bumpy bass beats amidst the unrelenting rat-a-tat of hi-hats.
The money shot of the EP is inarguably 'Maybachswagger', perhaps not holding as much weight on the dancefloor, but with sweetness and melody in the bucket-load. A pretty female vocal snippet is chopped and spluttered across the wet claps and downbeat, detuned bass – all resolutely repetitious. That is, until it reaches a glorious peak in the final two minutes, as a softly nostalgic melody drifts in, so bewitching and charming it's impossible not to be won over.
Pampa | December | vinyl, digital