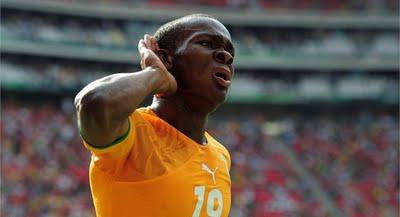 I usually try not to fall into the trap of anointing teenage sensations as the "next big thing". With that said, what Ivorian striker Souleymane Coulibaly has done in the U-17 World Cup has been nothing short of astounding. Coulibaly has scored an incredible 8 goals in 3 games so far. He started the tournament with 1 goal in a 2-1 loss to Australia. He followed that up with a 4 goal outing in a 4-2 victory over Denmark. Then in the finale of the group stage, Coulibaly lit up Brazil with 3 goals including a ridiculous bicycle kick. Ivory Coast and Brazil tied that thrilling match 3-3.
Unsurprisingly, many are anointing him the "next Drogba." In watching Coulibaly in these three games I would have to disagree with that statement. The only thing that Souleymane and Drogba have in common is that they are both Ivorian strikers. Their games seem pretty different at least at this stage. Coulibaly seems to like to do his work from the wing and at this stage of development he uses his speed and shiftiness more so than force and power. If I were forced to appoint the "next Drogba", that would have to go to Belgian teenager Romelu Lukaku. Currently Coulibaly plays for the newly promoted Italian club, Siena. I actually don't think he sees any first team action with his club as he is only 16 years old, but the rumors are still swirling about a possible transfer involving the Ivorian. It is rumored that Real Madrid is going to swoop in a buy him after the tournament.
In other U-17 news, USA has finished second in the group and will face Germany in the Round of 16. I briefly talked about their 3-0 victory over Czech Republic in the first group match. USA has not been as impressive since then, losing to Uzbekistan 2-1 and playing to a 0-0 draw against New Zealand in the final group match. The US and New Zealand were tied in every possible tie breaker after the final match and the 2nd place finisher was determined by the drawing of lots which is literally taking a piece of paper out of a bowl and whoever is picked wins the tiebreaker. Luckily for New Zealand, they qualified for the next round as the best 3rd place team and were promptly demolished 6-0 at the hands of Japan. Hopefully the Americans will fare better against the Germans. That match is airing today at 3:45ET on ESPN3 and ESPNU. Ivory Coast plays their Round of 16 match today against France at 6:45ET. That match can also be seen on ESPN3.