I know you probably already hate me just from reading the title, but please hear me out (literally).
I unabashedly love Disney movies. Maybe it's because I used to pretend I was Nala from The Lion King when I was kid (and I know I'm not the only one—she was an inspiring lioness for every young girl in the early 90s). It's entirely possible I just appreciate how Disney can finish a story in approximately 90 minutes without adding a bunch of unnecessary explosions, chase scenes, and shitty dialog. Perhaps I adore Disney movies because I love anthropomorphism and spontaneous musical numbers, and when the two come together in a motion picture, I go to my happy place. I don't know what it is, but when I see that shooting star fly over the Walt Disney castle, my heart swells.
I saw the movie Frozen, and like the majority of its Disney predecessors, I enjoyed every minute of it. I became fond of the snowman that sounded like Jonah Hill, but who was actually voiced by Josh Gad (that guy who reminds you Jonah Hill, that isn't Jonah Hill), and I thought the music was great, as usual. Unfortunately, there's one aspect of this charming motion picture that's causing an unwelcome furrow in my brow: everyone's talking about the song "Let It Go," and I have no idea why. 
Do I not relate because the cold does bother me? Do her freezy powers mean Elsa doesn't have any hormones? Because believe me, she will cry in front of someone at some point.
Don't get me wrong—"Let It Go" is a decent, well-written song. Try belting out "Let It Go" once or twice–it has a certain appeal. "Let It Go" undoubtedly has a little more substance than, say, "Get Low" by Lil' Jon…
Get Low:
To the sweat drop down my balls (MY BALLS)
To all these bitches crawl (CRAWL)
To all skeet skeet motherfucker (MOTHERFUCKER!) all skeet skeet god damn (GOT DAMN)
To all skeet skeet motherfucker (MOTHERFUCKER!) all skeet skeet god damn (GOT DAMN)
Let It Go:
Let it go, let it go
Can't hold it back anymore
Let it go, let it go
Turn away and slam the door
…I just really wanted to compare sweaty balls to an empowering, positive song. I'm sorry.
I guess we could use more songs about people moving forward from the difficult times in their past (especially when those difficult times involve freezing an entire village with their bare hands), and Idina Menzel (or Adele Dazeem if you have dyslexia or if you're one of those people who sees an unusual name and immediately gives up) has the beautiful voice of an angel that was once married to Taye Diggs. "Let It Go" is such an inspiring anthem that it just begs less-talented singers to record covers of it for YouTube.
…But honestly, am I hearing the same song as everyone else? Because if you ask me, this shit is just okay. I'd go so far as to describe it with that flip-floppy hand gesture you make when something is just ehhhhhh.
I was in my car the other day, and I actually heard "Let It Go" on the radio. The radio! Look, I fully support songs from Disney movies transitioning from annoying kid's stations to mainstream channels, but why "Let It Go"? THIS IS NOT THE GREATEST DISNEY SONG THERE IS! It's not even close! Truthfully, I think "Do You Want To Build A Snowman?" has more appeal than this stupid freedom ballad.
Every time I hear "Let It Go," I'm reminded of Jack's heartbreaking fate in Titanic (and once you finish reading this, you will be, too).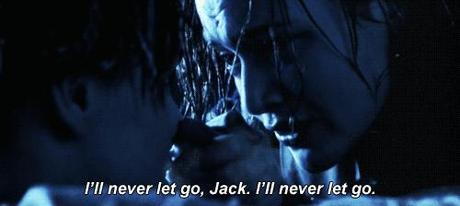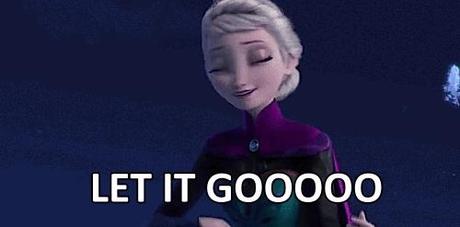 Hold up, bitch. Can you wait two seconds before building your magnificent ice castle? Jack's about to die here.
WHAT IF A SPITEFUL, LOVELESS ELSA MADE THE TITANIC ICEBERG? Is "Let It Go" really the easter egg that links these two movies?! …I digress.
I've decided to count down a definitive list of the top 22 songs that deserve more recognition than "Let It Go." I encourage you put on your headphones and indulge with me.
22. Perfect Isn't Easy – Oliver and Company: It doesn't get better than a song sung by a prize-winning poodle who's getting ready for the day. Most women can relate.
21. I Wanna Be Like You – Jungle Book
20. Cruella De Vil – 101 Dalmatians: They don't make jingles like this anymore.
19. A Dream is a Wish Your Heart Makes – Cinderella
18. Colors of the Wind – Pocahontas
17. Once Upon A Dream – Sleeping Beauty: Check out the gorgeous Lana Del Rey version for the new Maleficent movie.
16. When You Wish Upon a Star – Pinocchio
15. What's This? – The Nightmare Before Christmas
14. You've Got a Friend in Me – Toy Story: Just start crying now.
13. Circle of Life – Lion King: Because nothing's as satisfying as yelling, "NAAAAAJAPENYABABANEECHIBABA!"
12. Part of Your World – The Little Mermaid: You want thingamabobs? I've got twenty. But who cares? No big deal! I want moooooooooore! (As in, sexy prince Eric.)
11. A Whole New World – Aladdin
10. Kiss the Girl – The Little Mermaid
9. Why Should I Worry? – Oliver and Company: It's Billy Joel. No further explanation necessary.
8. I Just Can't Wait to Be King – Lion King
7. Tale as Old as Time – Beauty and the Beast: When I sing this, I always want to say "Tale as old as time, song as old as wine (instead of rhyme)." Because apparently I have an alcohol problem.
6. You & Me (Good Company) – Oliver and Company: Jenny from Oliver and Company may be the original cat lady. A little girl singing a song to her kitty cat gives me all the feels.
5. One of Us – Lion King 2: When a song starts with, "Deception, disgrace…" and shows the entire animal kingdom exhiling a lion, you know it's about go down.
4. Belle (Little Town) – Beauty and the Beast:If you haven't seen the hilarious parody of this called Bonjour, Girl!, your life isn't complete—it makes watching the original even better.
3. Hakuna Matata – Lion King: It means no worries, and Nathan Lane. (Lookout for awkward teenage Simba at the 2:57 mark.)
2. Under the Sea – The Little Mermaid
1. Be Our Guest – Beauty and the Beast: Giving you a song to see you through party preparations since 1991.
Sorry, "Let It Go," you're good, but you're not that good.
Do you like/love "Let It Go"? What Disney song is your favorite? Did I forget anything?