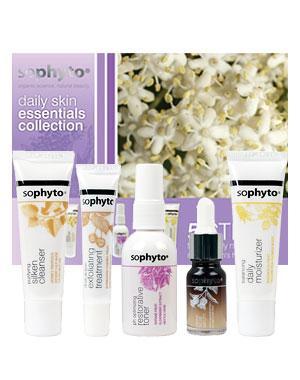 This Collection is meant to balance skin's PH while offering anti-aging benefits. 
What do I think about the effects on my skin of these products in general? I'm not so convinced about this set, mainly because of its price: 31.85£ on Naturisimo. My note for this collection is 6 but let's take a look at the single items.  
- Purifying silken cleanser: I don't find it purifying at all but it's a perfect make up remover! To be followed by a real cleanser to remove the oil excess and residues. NOTE: 7 
- Dual action exfoliating treatment: this is a fruit acids based exfoliator, perfect for quite sensitive skins because it removes dead cells without scrubbing. The only downside is that it has water consistency so it's difficult to deal with! NOTE: 7 
- PH optimizing restorative toner: this is an average natural toner, nothing more nothing less. What I didn't like about it actually was the useless presence of Alcohol so my NOTE is 6 
- Anti aging antioxidant serum: in my opinion this is a 'no-no!' product, this is not  a serum, this is water with alcohol and some good vegetal extracts, maybe it could be effective used regularly but it's too expensive considering the ingredients it contains. NOTE: 5 
- Balancing daily moisturizer: this is an average light moisturizer ideal for combination to oily skin types, I recommend it if you haven't found a nice natural moisturizer yet. NOTE: 6. 
I'm sorry for my disappointment, but I expect much from a medium-end brand like Sophyto. However I'd definetely buy the Exfoliating Treatment again because it's a really lovely product.