The end is near! No not the actual world… but our journey with Sookie Stackhouse and Eric Northman will be coming to an end this coming May with the release of the final novel of the series by Charlaine Harris.
I know, it is 2 words we are dreading… "The End".
And our journey takes another step closer to this moment with the posting of the "Dead Ever After" end paper on Charlaine's website.
And boy, am I squeeing over it loudly. Lets take a look at it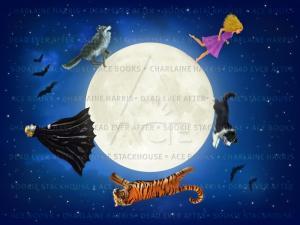 So… what do you think? Are you as excited as I am that we see both Eric and Sookie as a part of the drawing. Along with those other suitors in their animal form.
What type of theories and/or conclusions can you draw from this drawing?
My immediate take away is that Eric and Sookie are both part of the circle walking around the moon. And almost inline with each other. Like 2 halves.
What are your thoughts? Share them below!
Thanks to Sookieverse for the heads up that the art was posted on the website!