A lip smacking snack recipe made out of sooji/semolina/rawa. With goodness of fresh malai/yoghurt and veggies, it is a must try. I prefer to make it a little cheesy by grating cheese on top, but you can avoid that. Healthy & delicious recipe for kids. Enjoy with a cup of tea.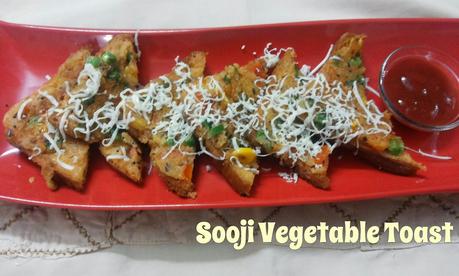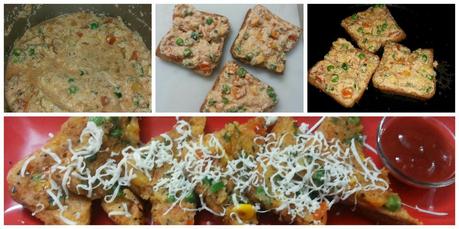 Makes : 6-8 slices
Preparation time : 10 minutes
Cooking time : 5-7 minutes
Ingredients :
Bread slices : 1 packet 
Fresh Malai : 1/2 cup
Sooji/semolina : 1 cup 
Tomatoes (finely chopped) : 1 medium
American sweet corn : 1/4 cup
Capsicum (finely chopped) : 1 medium
Peas : 1/4 cup
Green chillies (finely chopped) : 1 small
Red chili powder : 1/2 tsp
Turmeric powder : 1/4 tsp
Salt : to taste
Mustard seeds : 1/4 tsp
Oil : For shallow frying
Water : as required
Method :
1. In a deep mixing bowl, take sooji and malai.
2. Mix them well. Now add all the veggies. 
3. Add salt, red chili powder and turmeric powder. 
4. Mix all the ingredients together. If the batter is thick you can add water.The batter should be medium thick (not runny)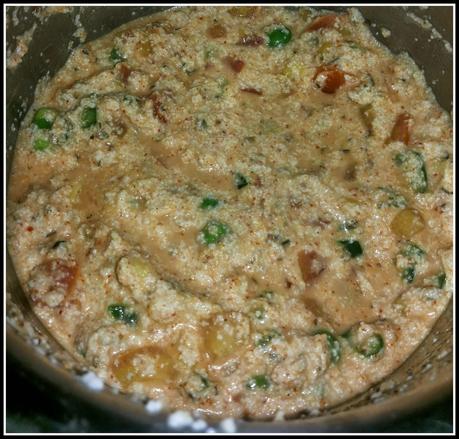 5. Cut the edges of the bread. Apply generous amount of the mixture.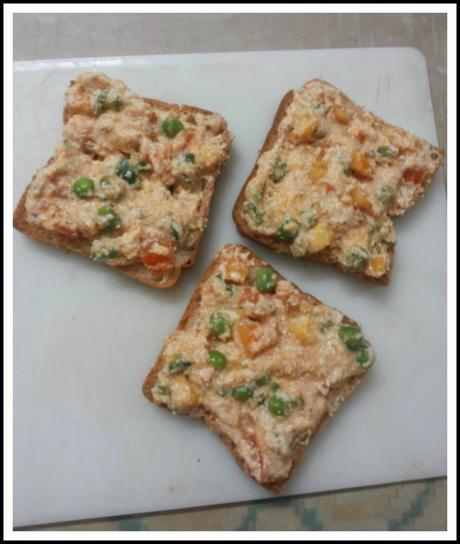 6. Heat oil in a non-stick flat pan, add mustard seeds. 
7. When mustard seeds splutter, put the bread slice, facing the mixture on the top.
8. Cook it for about a minute and turn the bread slice so that it will absorb the mustard seeds. It will give a nice flavor to the bread.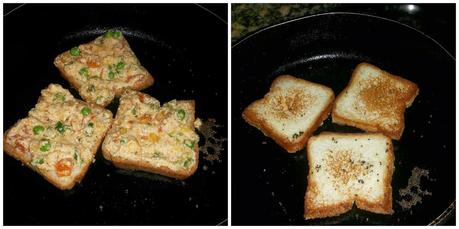 9. When the bread turns nice golden light brown color. Grate cheese. Remove from the pan.
10. Slice the bread diagonally.
11. Serve hot with tomato ketchup or chutney of your choice.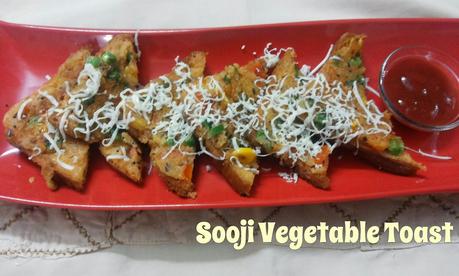 Handy Notes :
# Instead of malai, you can use yogurt or fresh dahi.
# You can add any veggies of your choice.