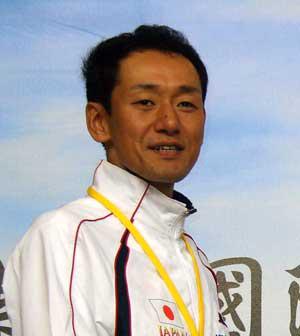 Ryoichi Sekiya Soochow 2007 Photo: Rico Shen
The Soochow international 24 hour race concluded a few hours ago in Taiwan with Ryoichi Sekiya running 261.257 km and Mami Kudo first lady and second overall setting a new womens 24 hour track record with 255.303 km surpassing her own world record set in 2009. Third place was Frenchman Emmanuel Fontaine with 252.800 km
The lead changed hands several times throughout the race with János Bogár and Valmir Nunes setting the pace early on. By the half way mark, Nunes had stopped and and Sekiya assumed a lead which he maintained for the next 12 hours followed closely by Kudo 142 & 139 km respectively.
Conditions from photos show rain during the night and the splits show slower second half perfomances for the leaders and by 18 hours Fontaine after an easy start climbed the field to anchor himself in third spot.
By this time Connie Gardner had pulled out with stomach problems and Scott Jurek stopped round about the same time.
Martin Fryer stopped just after 21 hour point and finished 9th at the end. The last of the thirteen runners to cross the 200 km threshold was second placed woman Kimie Noto and third lady was Kuei-Fang Lee.
Soochow 24 Hour Race 2011 Top Finshers
1 Ryoichi Sekiya 260.400 km
2 Mami Kudo (F) 253.600 km
3 Emmanuel Fontaine 252.800 km
4 Tsou, Shuang-His 237.200 km
5 Yang, Hung-Hui 230.000  km
6 Yeh, Fung-Chi 228.000  km
7 Lo, Wei- Ming 225.600  km
8 Hu, Jung-Ching 214.110  km
9 Martin Fryer 211.600 km
10 Chen, Chin-Tsai 207.200 km
13 Kimie Noto (F) 200.400 km
18 Lee, Kuei-Fang (F) 175.513 km
Full results are available on the race website: Soochow 24 Hour Race
Earlier post