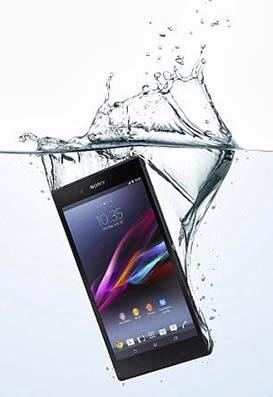 The Sony Xperia Z Ultra waterproof smartphone has arrived. The giant water-resistant smartphone was recently launched in Mobile Asia Expo in Shanghai.
Sony says it intends for the device to challenge Samsung's dominance of the jumbo-sized handset sector.
It will be recalled that Sony first unveiled its waterproofed Xperia Z smartphone in January at CES 2013 In Las Vegas
Sony Xperia Z Ultra will go on sale in China, Indonesia and Singapore in July and August, and then in Europe from September.
Below we take a look at some really cool features of the new Sony Xperia Z Ultra that most people will find interesting.
 
---
Sony Xperia Z Ultra's waterproof and dust resistant design
---
Toughness hasn't affected its looks though, with the stunning design measuring just 6.5mm slim and weighing in at 212g. Waterproof, dust resistant and with tough tempered glass coated with an anti-shatter film, this Android smartphone is much tougher than it looks.
With its 6.5 mm body, reflective glass surface and at 212 grams, this premium big screen phone is impressively slim, light and slick. The new Sony Xperia Z Ultra offers the world's largest Full HD smartphone display in a design that is impossibly slim and lightweight. This is a device that takes smartphone technology to a new level.
 
---
Sony Xperia Z Ultra 6.4-inch Full HD TRILUMINOS Display
---
Sony's own TRILUMINOS technology creates a wider palette of rich natural colours and each pixel is optimised to provide the sharpest possible videos and images. Xperia Z Ultra is the smartphone that takes you beyond your wildest dreams.
The result? An on-the-go viewing experience that maximises everything. Providing a visual experience unlike anything ever seen in a mobile phone, the Xperia Z Ultra proves that bigger really is better.
 
---
Xperia Z Ultra 8 megapixel camera with HDR for video and photos
---
By adopting the technology of luminance and colour noise reduction, Sony have created a camera that snaps highly detailed shots with low noise – even in challenging lighting conditions. You're now also able to reproduce objects in more vivid colours and capture night images and faces in stunning clarity.
 
---
Sony Xperia Z Ultra 2.2GHz quad-core processor
---
This advanced Quad-core processor is 75% faster than S4 Pro and gives you maximum power and speed with outstanding battery time – run multiple apps simultaneously, surf the web with little loading time, and stream videos without a break. The Snapdragon 800 processor is asynchronous, which means each core is powered independently. So you get the precise amount of power when you need it, without wasting power when you don't.
 
---
Sony Xperia Z Ultra STAMINA mode for improved battery life
---
Battery STAMINA Mode saves you wasted battery drain. It recognises when you're not using your display and automatically turns off the functions you don't need, while keeping the notifications you want. As soon as you press the power button to wake up your screen, everything is up and running again