This is the weekend edition of TheMarioBlog and will be updated as needed. The new blog post is Monday, March 19.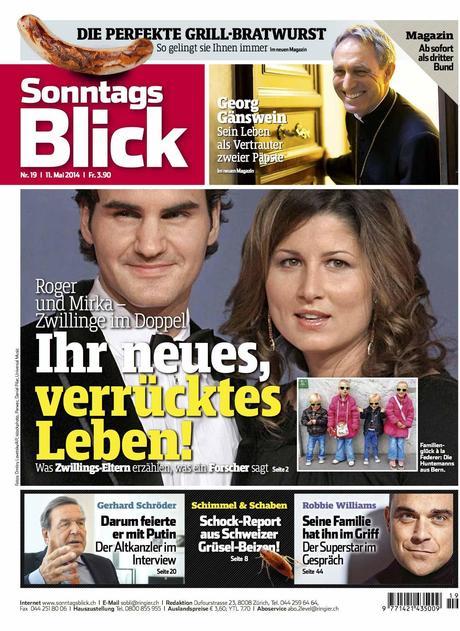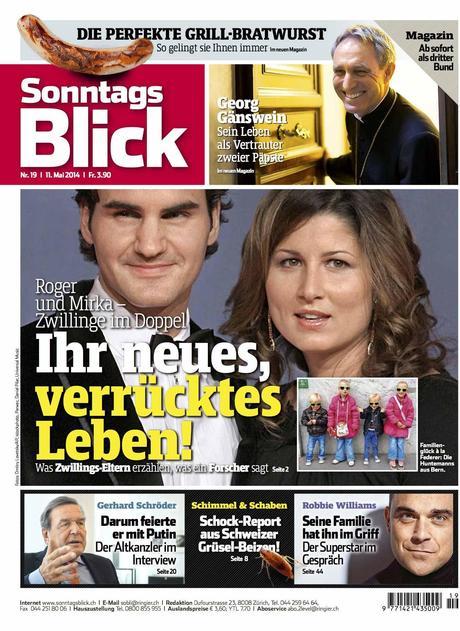 Front page of the new SonntagsBlick
Christine Meier was best known as a Swiss TV personality.  Perky, smart and a storyteller, she won over an audience in her television appearances. One day, she was asked to become editor in chief of SonntagsBlick, the newspaper that many Swiss like to wake up to.
It was Mother's Day in Switzerland recently, and what a better day to launch the new look of SonntagsBlick, the one that has the seal of Christine, and her incredible instincts for people features, interviews of consequence and an overall entertaining experience that can capture the attention of Sunday morning readers.
Quote from Christine.

I first met Christine in Belgrade, the Serbian capital, during a  retreat for all members of Ringier media group.  She was the first person to get up from her seat after I finished my keynote speech to the group.
I remember her telling me: "I am going to be the new editor of SonntagsBlick, and I would love to chat with you and tell you about the things I'd like to do."
We met. We chatted.  We decided on a date for me to come to Zurich and work with her and her team.  It was three fun, productive workshops leading to the new SonntagsBlick now in the street.
Working together with our Garcia Media Europe senior art director, Constantin Eberle, we started creating models that would accommodate not just a new look, but also new content and reorganization of content flow.
The view from the top
Florian Fels is CEO Publishing for Ringier. This is how he assessed the launch of SonntagsBlick:

The relaunch of SonntagsBlick is a success from todays perspective as we received many positive comments from readers and advertising clients. Thank you very much - Mario and team - for all your efforts, important contribution and great support!!! Excellent job!!!
The typography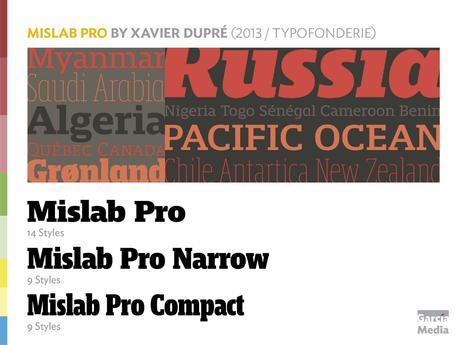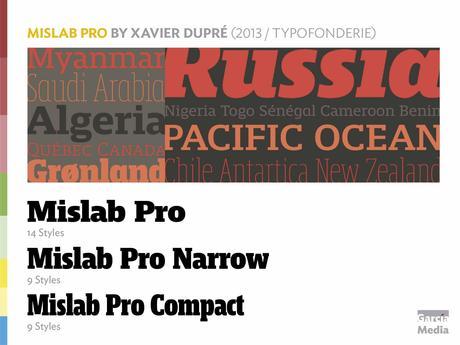 The type palette includes Mislab Pro, Mislab Pro Narrow, Mislab Pro Compact. These fonts come from Typofonderie.
The color palette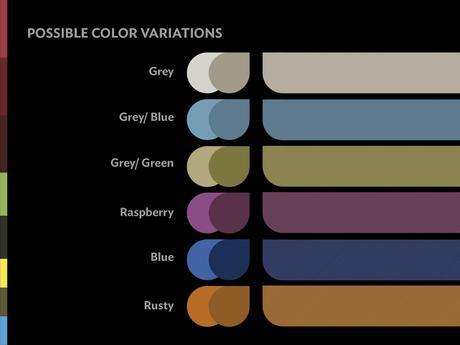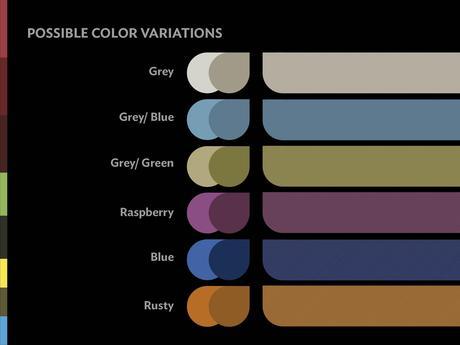 Design elements
A logo on wheels: three possible positions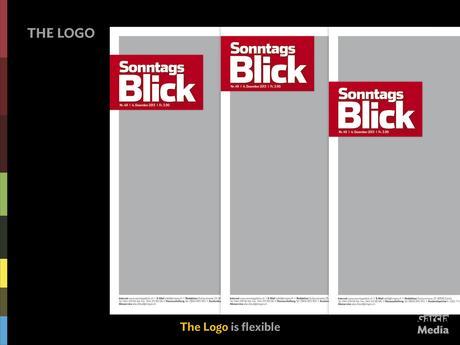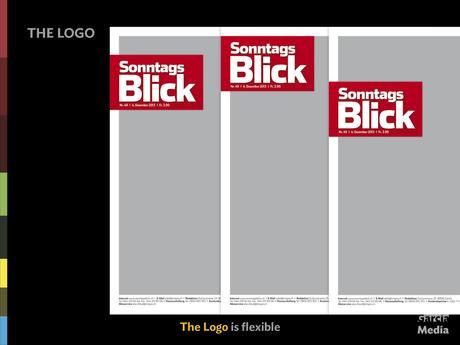 The front page design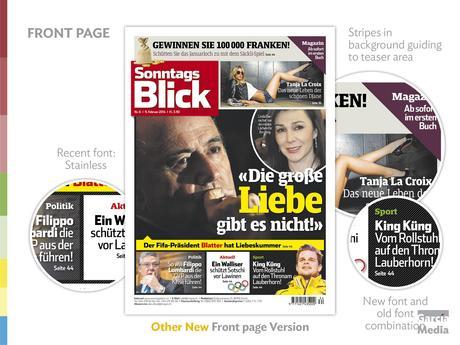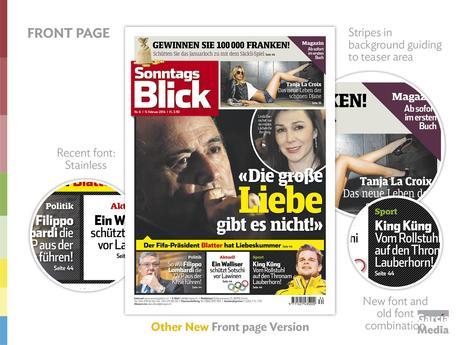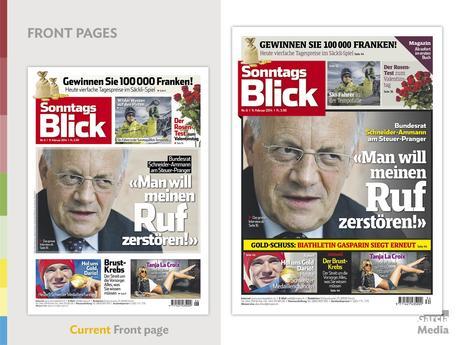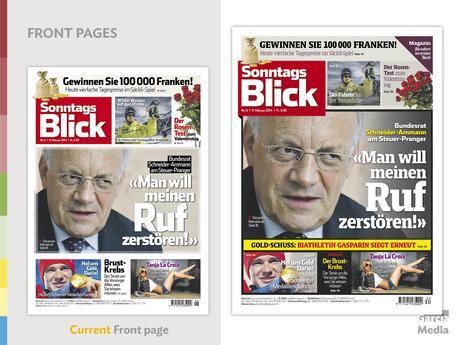 Before and after front page prototypes.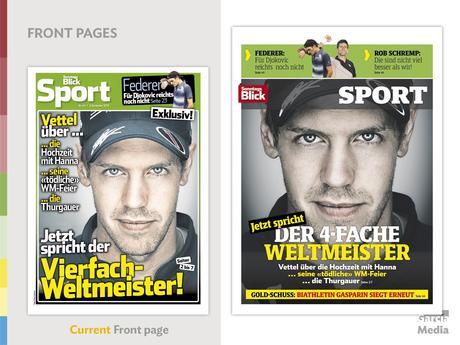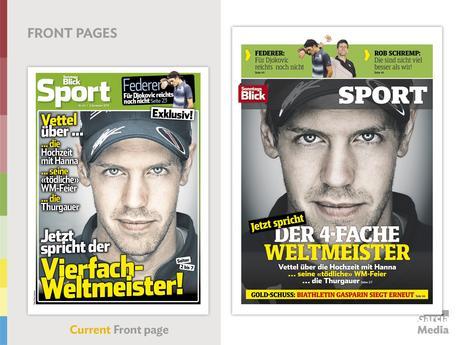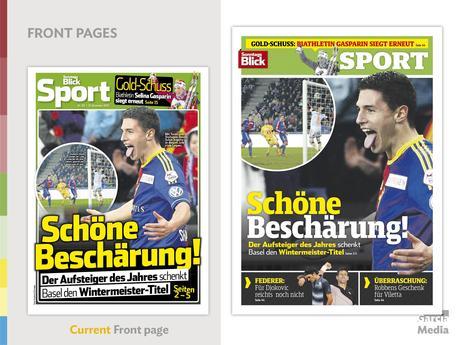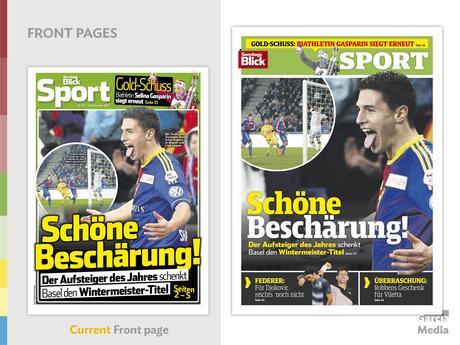 Before and after sports front prototypes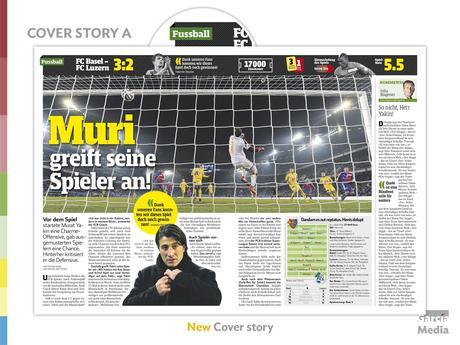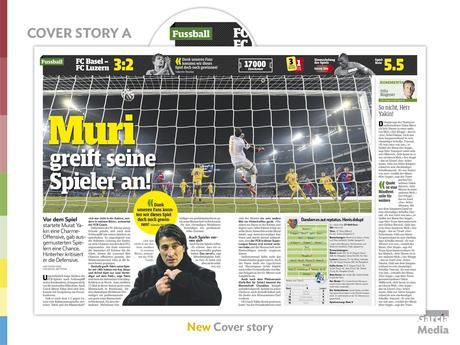 Inside double page spread for sports (prototype)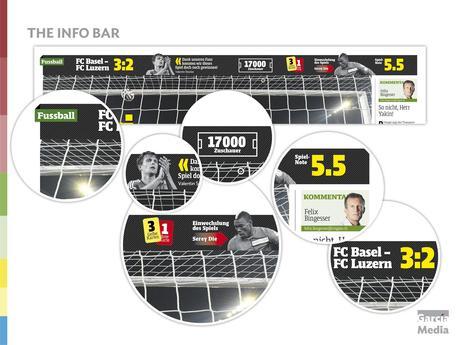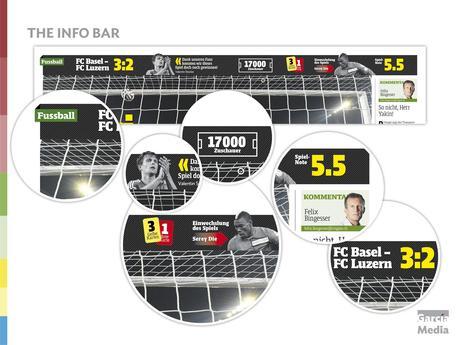 Various stylistic details for adding data to sports stories
Inside page sections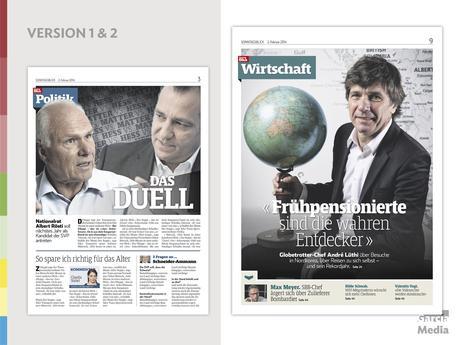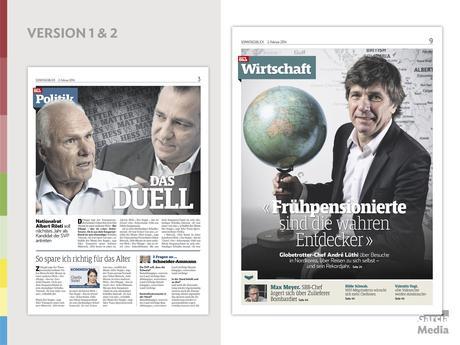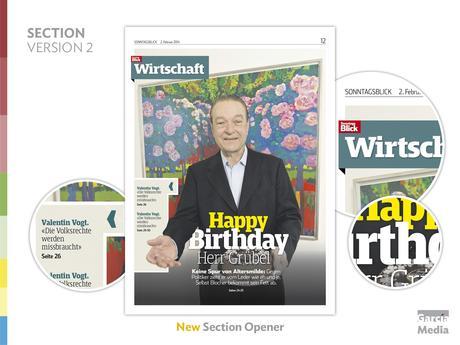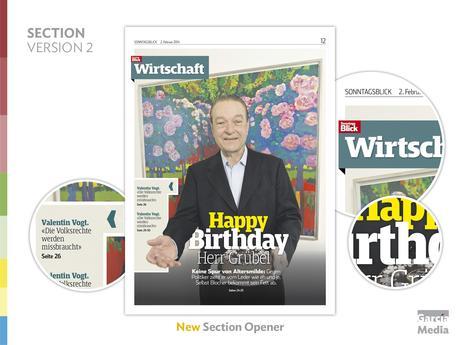 Two news sections appear in the first book: Politics, Economics. We opted to give them some power without making them look as if they do not belong inside.
The Magazine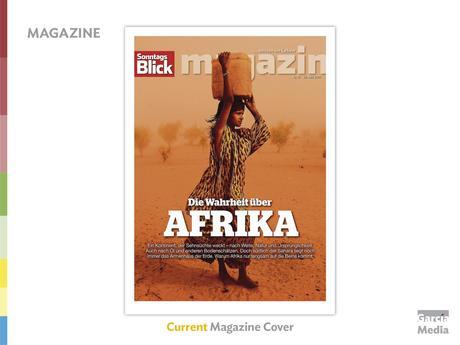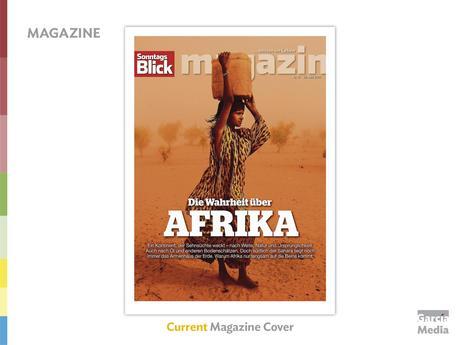 Here is cover of the old version of Magazine, when it appeared printed in glossy paper, and stapled.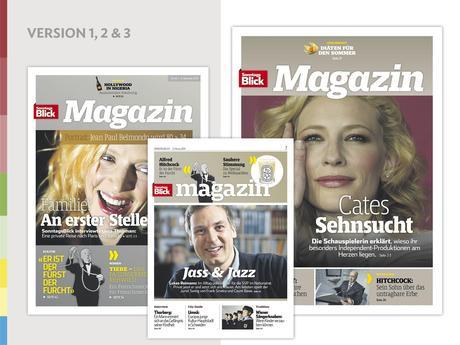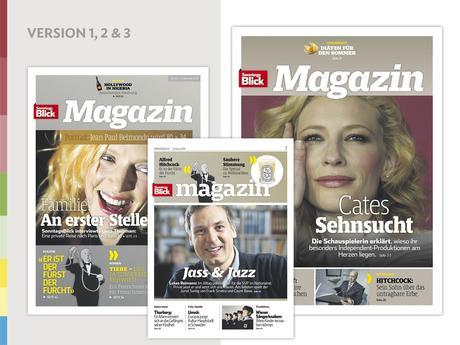 Here are some early prototypes for how we envisioned the new Magazine, newsier and more integrated into the rest of the newspaper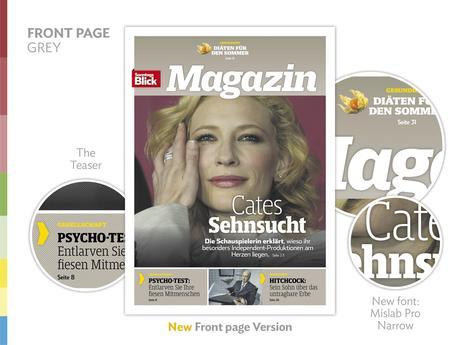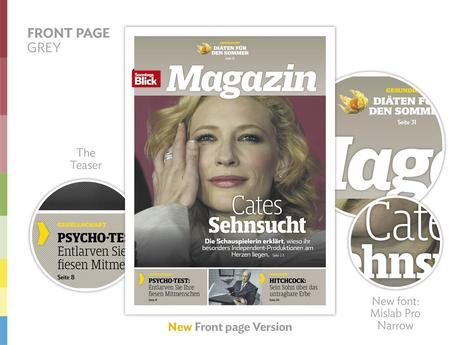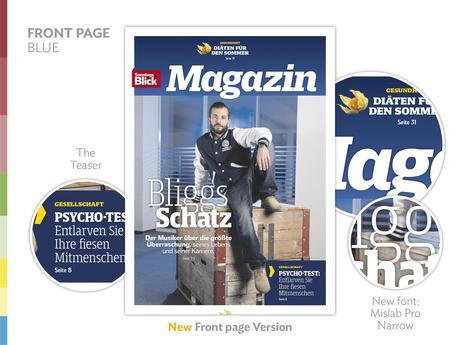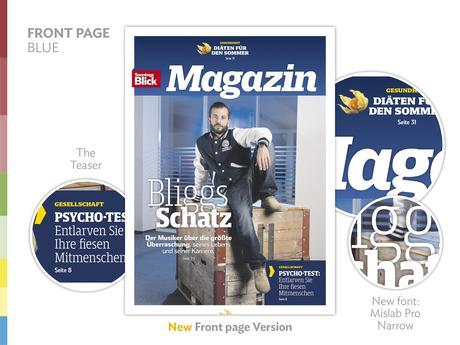 One of the most radical features of the new SonntagsBlick is the fact that the glossy and bound weekly magazine supplement was replaced for one that is more like a newspaper supplement (covering the same type of topics of people, health, living), but in the same format and paper quality as the rest of the newspaper.
"Our emphasis is more people and family related stories here," said editor Christine Meier.  "We want to tell our readers what others do on a Sunday morning, where they go and take their children, and what's to do in the city for those who wish to go out. Plenty of tips and rich in people features."
Flip through the entire first edition of SonntagsBlick after rethink/redesign
TheMarioBlog post #1490
Please enable JavaScript to view the
comments powered by Disqus.
comments powered by

Disqus