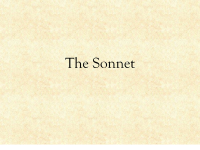 Sir Thomas Wyatt, the poet & diplomat, bought the sonnet to the English court & then Henry Howard, the soldier, poet, & Earl of Surrey became the innovator of the form of three quatrains followed by an heroic couplet.
A
Sonnet
is a form of a poem that originated in Europe, mainly Italy: the Sicilian poet Giacomo da Lentini is credited with its invention.
They commonly contain 14 lines. The term "
sonnet
" derives only from the Occitan word
sonet
and the Italian word
sonetto
, both meaning "little song" or "little sound". The sonnet has mainly these two forms and structure:
Structure of the Petrarchan (Italian) Sonnet Form:
The Petrarchan sonnet is made up of fourteen lines which are divided into:
*

An

Octave

which has eight lines having

  

"a-b-b-a, a-b-b-a"rhyme scheme.
  

  

And 
* A

Sestet

which has six lines having either "c-d-e-c-d-e " or

  

"c-d-c-c-d-c"

as the rhyme scheme.
This example, On His Blindness by

Milton

, gives a sense of the Italian rhyming scheme;
When I consider how my light is spent (a)
 Ere half my days, in this dark world and wide, (b)
 And that one talent which is death to hide, (b)
 Lodged with me useless, though my soul more bent (a)

To serve therewith my Maker, and present (a)
 My true account, lest he returning chide; (b)
 "Doth God exact day-labor, light denied?" (b)
 I fondly ask; but Patience to prevent (a)

That murmur, soon replies, "God doth not need (c)
 Either man's work or his own gifts; who best (d)
 Bear his mild yoke, they serve him best. His state (e)

Is Kingly. Thousands at his bidding speed (c)
 And post o'er land and ocean without rest; (d)
 They also serve who only stand and wait." (e)
Structure of the Shakespearean (English) Sonnet Form:
The Shakespearean sonnet is also made up of fourteen lines, but the structure is divided in a different way to the Petrarchan sonnet. The Shakespearean sonnet is separated into three quatrains, which follow the rhyming pattern of:
                                        

a-b-a-b,
                                         c-d-c-d,
                                         e-f-e-f, 
   g-g.
The most distinctive feature of the Shakespearean sonnet is that it always concluded with a rhyming couplet.
This example,

Shakespeare's

Sonnet 116, illustrates the form (with some typical variances one may expect when reading an Elizabethan-age sonnet with modern eyes):
Let me not to the marriage of true minds (a)
Admit impediments, love is not love (b)

Which alters when it alteration finds, (a)
Or bends with the remover to remove. (b)

O no, it is an ever fixèd mark (c)
That looks on tempests and is never shaken; (d)

It is the star to every wand'ring bark, (c)
Whose worth's unknown although his height be taken. (d)

Love's not time's fool, though rosy lips and cheeks (e)
Within his bending sickle's compass come, (f)

Love alters not with his brief hours and weeks, (e)
But bears it out even to the edge of doom: (f)
If this be error and upon me proved, (g)
I never writ, nor no man ever loved. (g)