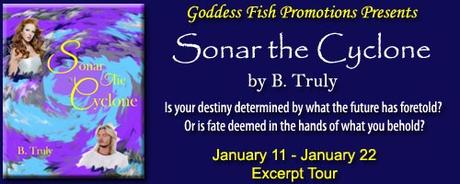 Sonar the Cyclone
by B. Truly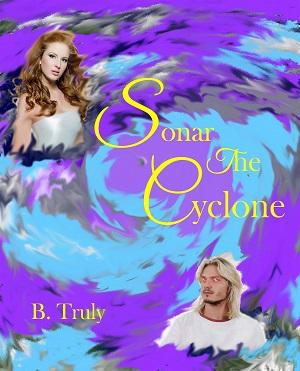 GENRE
: YA Sci-fi Fantasy Romance
BLURB:
Is your destiny determined by what the future has foretold? Or is fate deemed in the hands of what you behold?
The Royal 4 are now back on their home territory of Nazari, determined to get things back to normal. Syira's forbidden love is being held captive. She is hell-bent on fighting for him despite the immense obstacles. She must find a way to convince her race that Kadeem is not dangerous. Their threat lies from deeper within.
Shiray has accepted her past and is moving forward with her life, but it comes back to haunt her tenfold. That all changes when she stumbles across the truth. Now, she must pick up the pieces of her shattered life.
They are in the calm but know when they approach the dirty side of the Cyclone storm, terrible things will unravel. The future is revealed and they get a glimpse of Fate's course. Time is not on their side. They must attempt to change their destiny or their world will be doomed.
Buy Links
:
Amazon   Smashwords 
Exclusive Excerpt
"Get to the net, Syira!" Kadeem yelled. I overhead stroked as fast as my drained body would take me. My adrenaline urged me forward. I was a good swimmer and would have to thank my father for all of those extended lessons. I yanked ahold of the ropes and started to climb. John and Nazar were almost to the top. There weren't any more Polars, thank Sonar. I glanced down, and it was hard to see because of the pouring rain. But Kadeem and August were on my heels. The wind's monstrous noise sounded like a tornado was near.
"Climb faster," Kadeem encouraged.
An image flashed before me of emerald green glowing eyes. I had to make it for him. I wouldn't leave my son motherless. Suddenly, there was a thunderous bang. I whipped my head to the right and a gigantic tsunami formed. It had to be hundreds of feet tall. I gaped in horror as it plummeted forward. It was going to crash into the two Polar ships first and us next. The cyclone was moving at a tremendous speed, and I knew there was no way we'd escape its path in time. I closed my eyes and said a silent prayer as I waited for it to consume us.
AUTHOR Bio and Links: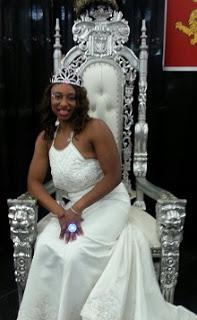 B Truly has wanted to be an author since she was fifteen years old and is grateful to have accomplished this dream. She has very vivid dreams and a wild imagination. She likes to read, watch tons of TV shows, and movies. She is addicted to romance and gets a thrill out of action and suspense. She writes New Adult, Fantasy, Sci-fi, and Paranormal-Romance.




In the Sonar series, B Truly said, "It was fun to explore different elements of Sci-fi romance and create various realms of powers for my characters. I want to show my readers that Sci-fi can be fun, but also traumatic. I hope you guys enjoy the Sonar Series."




B Truly has three wonderful children and a husband who defines the person she is today. She works full-time as an Ultrasound technologist in Sugarland, Texas.




Links

:




Amazon Buy Link: http://www.amazon.com/Sonar-Cyclone-Book-2-ebook/dp/B010KSGID4/ref




Smashwords: https://www.smashwords.com/books/view/554705




https://www.goodreads.com/book/show/25840468-sonar-the-cyclone




https://www.facebook.com/TheSonarSeries




GIVEAWAY




The author will be awarding a $15 Amazon GC plus Swag: 1 Sonar The Cyclone e-book, 1 Sonar The Cyclone Photo Magnet and 1 Sonar pen to a randomly drawn winner via rafflecopter during the tour, and a Swag Pack: 1 Sonar The Cyclone e-book, 1 Sonar The Cyclone photo magnet and 1 Sonar pen to a randomly drawn host.


a Rafflecopter giveaway