I was never a big fan of cricket (*as expected*)… but then my entire family was. Quiet surprisingly, I thought It was a waste of time. So back in those days when a house had only one T.V. , match once ON would never go OFF. Especially my Uncle, he had the ability to convert into a statue once the match is on. 110% attention is something which I got to learn from him. :P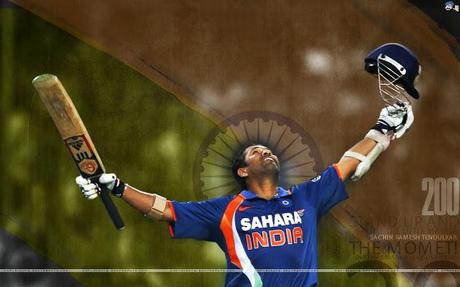 Anyways so when Sachin was out… a dead silence in my living room. Everyone gets up…back to normal life and the TV goes off. That was miraculous. I always thought they were in love with the game but they were in love with this person. So just to know what's so different about him I started watching him and I never stopped. This must be back in 1998-1999 and then I had a long 15 year relationship with him *wink*
Anyways how much ever I talk about him it's going to be a drop in the sea. I cannot contain his greatness in words. He is modest, determined, dedicated and + all the infinite good adjectives all can be applied to him. Sadly I could watch him bat live only once but I remember my eyes were glued to the binoculars the whole time he was on the ground.
So just to summarize, you will always be my favorite person, one who is ideal to be an ideal person. I don't care what people say or think about you. Cricket for me ends with you.You are one heck of a global celebrity and still so bound to ground. *truly amazing*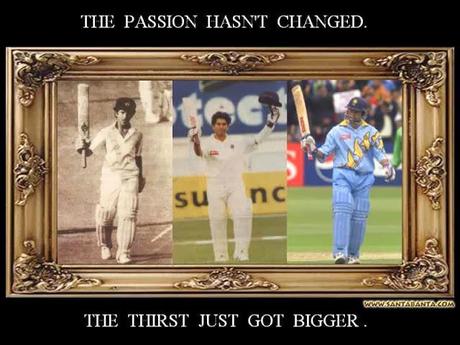 "Now only Humans will play cricket…

:(

"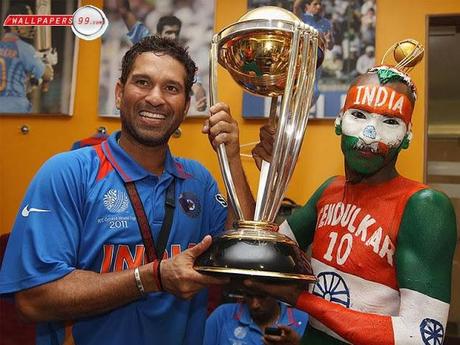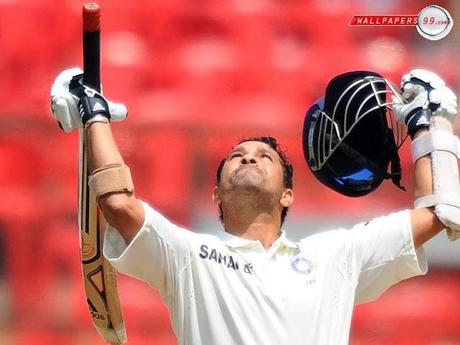 Something legends would like to add :
Matthew Hayden:
"I have seen God. He bats at number four for India." 
Rahul Dravid:
"What he has done is set a benchmark for future generations which, probably, would be almost impossible for anyone to emulate." 
Brian Lara:
"Sachin is a genius. I'm a mere mortal. When I speak about cricket, I will speak about Tendulkar. Just like you mention Mohammad Ali when you mention boxing and Michael Jordan when it comes to basketball." 
Anil Kumble:
"I am fortunate that I've to bowl at him only in the nets." 
Mahendra Singh Dhoni:
"His schoolboy-like enthusiasm for the game is something I envy and admire. For the team he is the best available coaching manual." 
Andy Flower:
"There are two kind of batsmen in the world. One, Sachin Tendulkar. Two, all the others." 
Bollywood superstar Shah Rukh Khan:
"I would like to thank you from the bottom of my heart for allowing us to breathe the same air as you do." 
Shane Warne :"
I'll be going to bed having nightmares of Sachin just running down the wicket and belting me back over the head for six. He was unstoppable. I don't think anyone, apart from Don Bradman, is in the same class as Sachin Tendulkar. He is just an amazing player "
Peter Roebuck
: "On a train from Shimla to Delhi, there was a halt in one of the stations. The train stopped by for few minutes as usual. Sachin was nearing century, batting on 98.

 

The passengers, railway officials, everyone on the train waited for Sachin to complete the century. This Genius can stop time in India!" 
Andrew Flintoff
:When you bowl at him you are not just trying to get him out, you are trying to impress him.
Wasim Akram:Earlier, opposing teams used to feel that Sachin's dismissal meant they could win the game. Today, I feel that the Indian players, too, feel this way.
Barack Obama -
"I don't know about cricket but still I watch cricket to see Sachin play..Not b'coz I love his play its b'coz I want to know the reason why my country's production goes down by 5 percent when he's in batting"
Amitabh.:

"Sachin is the heart of cricket.. He has not just excelled himself in cricket, but he is also a symbol of great excellence. It's unimaginable to see him retire. Cricket will not be the same without Sachin,"
Waqar Younis(Pak) :
''He can play that leg glance with a walking stick also"
And just a treat to eyes while saying good bye.. :
SRT FOREVER