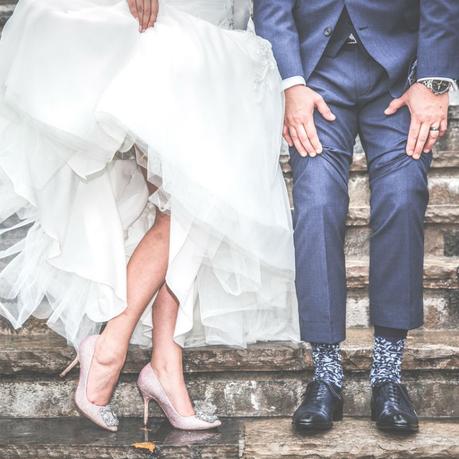 There are many traditions and folklores surrounding wedding ceremonies with all sorts of symbols to represent good luck for the happy couple. One of the most enduring and popular traditions actually comes from an old English poem dating back hundreds of years:
Something old

Something new

Something borrowed

Something blue

A silver sixpence in her shoe
This rhyme has been passed down through generation after generation since it was first recorded around 1883, and it has become a real tradition for items which a bride is supposed to incorporate into her wedding day outfit, to bring good luck for her pending marriage. There are various interpretations of what each element of the rhyme represents and endless ideas for how to incorporate them, Katie Jones from Orla James discusses just a few…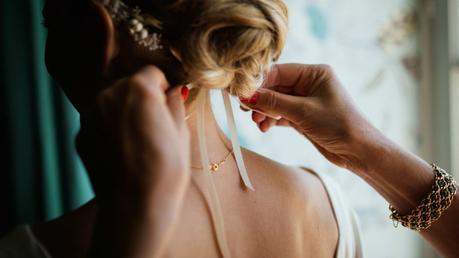 Something Old
There are several interpretations for the meaning behind carrying something old in the rhyme. The most common one is that it represents continuity of the family line, so the traditional item to carry is something passed down from another generation, such as a piece of jewelry given by your mother or grandmother.
In another slightly different interpretation, the something old represents protection for the bride's future children. The tradition is that it should be something that was owned by another bride who has already had children, ideally an undergarment, so that it will bring protection to the baby to come from this new bride, and to ward off evil which might make the new bride barren. Not sure how hygienic or practical that one is!
It doesn't have to be something that someone else has given you, maybe you have a christening bracelet that was yours as a child, or you could use an old family veil on your wedding date. Maybe your mom still has the sixpence she used on her wedding day, or maybe you have a nice vintage element to your dress, like stitching an old ribbon inside it, or even a piece of material from your mother's wedding dress.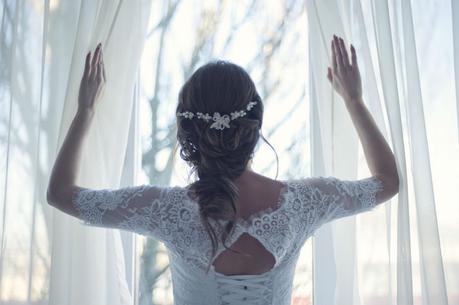 Something new
This represents the new start to life as a married couple and optimism for a new and bright future together and is usually represented in everything the bride is wearing as most of it will be new, so there is no requirement to buy something specifically for this particular element. It could even be said that the new husband fits this element on the wedding day.
Although sometimes a relative might like to buy a new set of earrings, or bracelet for the bride to demonstrate this commitment to having something new to wear on the big day so if someone wants to buy your something new, then so much the better.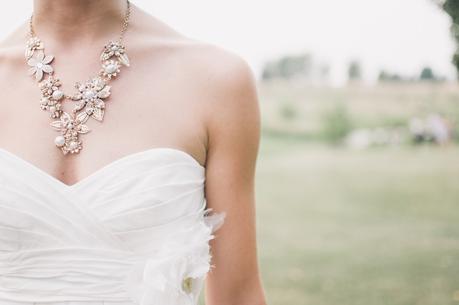 Something borrowed
This should again be something that was borrowed from another happy bride, with the idea that you are borrowing her happiness to bless your wedding day as well.  This could be the same item as your something old in theory as you could borrow a family wedding veil or jewelry from your mother or grandmother, just for the day and then give them back again, meeting both traditions in one.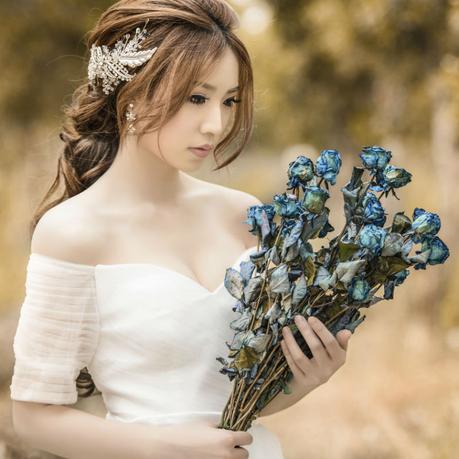 Something blue
The color blue stands for purity, fidelity and love and the general tradition for this in British culture is for the bride to wear a blue garter or a garter with a blue ribbon in it, around one of her legs so that it is hidden from view. Or you could stitch a blue ribbon into the inside of your wedding dress.
But there is nothing to stop you wearing something a lot more visible, perhaps a blue accessory in your hair, light blue wedding shoes or maybe even a pale blue wedding dress to buck the white trend! You could hide a bright blue flower in your bouquet or have sapphire jewelry. There are many ways to incorporate blue into your overall look without it becoming distracting.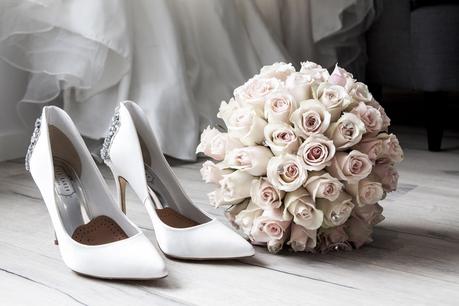 Sixpence in the shoe
This also has several interpretations – it can mean good luck, or wealth and prosperity and is sometimes also said to symbolise a way to ward off evil spirits from the happy couple. While it may not be practical to wear a sixpence in your shoe all day, you could always tape one to the underneath of your shoe if you are wearing heels, or just carry one in your handbag with you. If your dress has pockets you could keep one in your pocket, or even stitch it into the lining somewhere so that it's hidden but always with you throughout the day.
**