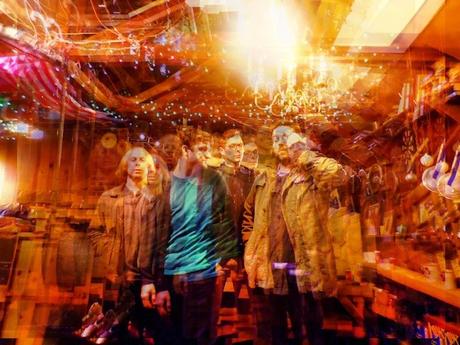 Someone Still Loves You Boris Yeltsin is basically synonymous with awesome lo fi power pop, and their newest track and their newest track "Trevor Forever" proves the rule. With motoring guitars, a propulsive beat and some seriously amazing feedback – it's the perfect way to start rocketing into summer. Phil Dickey's vocals bring the dirt on the track to the next level – making it one of the best power pop anthems we've heard in a long while.
The video itself is just as delightful as the song – starting with an old clip of Mister Rogers and moving into a wonderful documentary-esq view of the making of the bands tapes. Of the video Dickey says:
The largest cassette manufacturer in the United States happens to be located in our hometown (Springfield, Missouri). It's called National Audio and everyone who works there is super friendly. We stopped by the factory when they were printing our new cassette tapes. The whole thing reminded me of a Mister Rogers factory tour. We wanted the guitars on "Trevor Forever" to sound like they were recorded directly on a 4-track cassette recorder, so it seemed like a good fit with the cassette footage. I'll be shocked if the song doesn't crack the Top 40 charts by the end of the week.
Check out the video above and be sure to pre-order their new record The High Country out June 2nd on Polyvinyl and on tour this summer:
05-30 Springfield, MO – Outland Ballroom
06-19 Kansas City, MO – Riot Room
06-20 Columbia, MO – Rose Music Hall
06-26 St. Louis, MO – Off Broadway
06-27 Chicago, IL – Subterranean
07-31 Boston, MA – Great Scott
08-01 New York City – The Studio at Webster Hall
08-14 Dallas, TX – Three Links
08-15 Austin, TX – Holy Mountain
08-21 Jopin, MO – JB'S Downtown