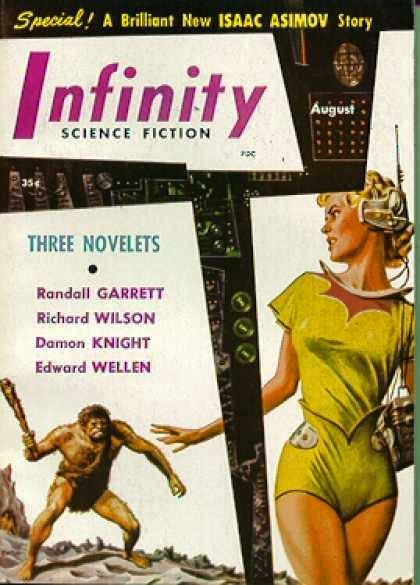 Magazine:  Infinity Science Fiction
First Publication:  1956
Cover Artist:  Ed Emsh
Challenge:
42 Challenge 2015
First Line:  Niccolo Mazetti lay stomach down on the rug, chin buried  in the palm of one small hand, and listened to the Bard disconsolately.
Niccolo Mazetti has an old fashioned bard that he is ashamed of.  Old models tell variations of fairy tales and only have audio capabilities.  The new models incorporate video and use modern storytelling.  His friend is considered a higher intelligence and offers to do an upgrade on Niccolo's bard.  But the bard might be more than it appears to be.
"Someday" appears to reflect Asimov's thoughts concerning video media such as movies and television.  Radio might be more advanced than it is given credit.  Storytelling combined with your own imagination can make a story more spectacular than what is shown on a screen.  The combination of the twist at the end, the story taking place in basically one room, and a small cast would have made this a good candidate for a "Twilight Zone" episode.  
I highly recommend this story.  A great short tale by the "Good Doctor".
Side note:  Due to one small reference, this story is part of the Multivac universe where Asimov placed a lot of stories.  They dealt with a super computer that helped to run the world.
Other notable authors in this issue were Harlan Ellison, Damon Knight, Randall Garrett, and Robert Silverberg.  Ellison's story was part of his "Earth-Kyba War" series.