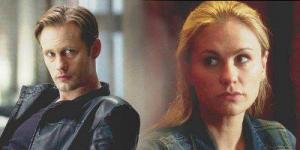 In the True Blood quoting world… sometimes we feast… sometimes we famine. This week is sadly famine as we are a bit lite on the Sookie and Eric zingers. So let's tighten up our belts.
Granted, this week is was all about the looks. You know, the looks from Eric that say "WTF?". Or the look Sookie shot at her faerie kin in the club. Or… I could go on.
But these polls are not about what they do, but what they verbally say.
Go vote! And vote often!
<a href="http://polldaddy.com/poll/6431483">Take Our Poll</a>
This poll will remain open till the next episode.