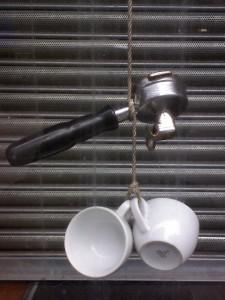 Flat White entrance (door weights)
Princi water fountain
Princi water fountain
Monmouth Coffee wood
Monmouth Coffee wood
Monmouth Coffee wood
It is fair to say that coffee houses which are initiated with architecture in mind and architectural projects conceived with coffee or coffee houses in mind, are a thing of the past. I find that more than sad. You will find some beautiful examples in the Czech Republic, Austria, Italy and some other countries, but these are all centuries old. It is however possible to find coffee houses, where the architectural mind or aspects of proper combination of building and purpose are found. Here is a modest collection of spots in London, where you will have some wonderful coffee, some wonderful food for the eye or both.
Flat White is certainly one of the most passionate and high-demanding corners for coffee in the wonderful city of London. When you walk in, the door will close itself due to the weight of two cups hanging from a robe. Apparently the door got too heavy and newly they have added a portafilter to the cups. 
Princi is not the place for passionate coffee, but they do offer coffee and teas. The atmosphere is however quite special and very much architecture oriented. So, just for the enjoyment for the eye or for their good pastries, you should visit them. I must add, I find water fountains in coffee-houses are a perfect pairing. For many years I had been asking myself, what the best music is for a café. I love classical music, but many do not wish to hear such music in such a place. Many like jazz, but many do not. Pop music could be highly disturbing and an acoustical pollution for many ears. Silence is perhaps to cold. Suddenly I knew what the only right answer for the ears could be, whenever enjoying life in a coffee-house – water.
One of the very best places for coffee in London is Monmouth Coffee. It offers three different addresses for the enjoyment of the drink on their terms. Their terms are some of the best you will find world wide, both with coffee out of the espresso machine and with their filter system. At one of their three spots you will find an entrance that resembles a typical "coffee shop" entrance, but towards the back a true coffee-house atmosphere opens up. The space is shared between three wooden sitting sets and the coffee machines and utensils with their baristi at work. The sitting arrangement are made out of solid blocks of wood, partly in their raw state but simultaneously displayed in a mininam manner. And all over you will find the knots in the wood that attracted me so much, enough to make pictures of them.