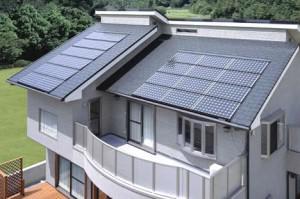 For anyone considering buying a new home, a multitude of decisions must be made before finally closing on a house. Which neighborhood is best? How are the schools? Is public transportation nearby? Something new to tack onto that list may be whether or not your home can generate energy from sustainable sources.
October is National Energy Awareness Month, sponsored by the Federal Energy Management Program, and marks a month of clean energy events and activities that can be found here, and on 2nd Green Revolution's calendar of events. An example of local events raising awareness about energy is the solar home tours that took place on Saturday, September 29th in Denver, and another similarly themed solar home tour in Golden, CO this Saturday, October 6th. The inaugural Golden Tour of Solar Homes is a self-guided tour of homes in the Golden, CO area that use various solar technologies for energy and heating needs. The tour begins in downtown Golden at the American Mountaineering Center and will last through most of Saturday. Included with the self-guided tour are renewable energy and electric vehicle expos.
Golden and Denver aren't the only cities with solar home tours. The American Solar Energy Society (ASES) has an entire grassroots organization named the National Solar Tour
that organizes and supports solar home tours across the country. An online publication of the 2012 tour guide can be found here, which outlines new solar technologies and how you can integrate solar energy into your home.
Showcasing neighborhood efforts to take advantage of solar and other clean energy technologies may help jumpstart new residential energy projects. In addition, events like these help build a sense of community by showing how we all can take advantage of clean energy to build cleaner, less polluted neighborhoods.
Visit the ASES website to find a solar home tour in your community, or register your own solar home tour.
Image URL