Last Friday kicked off the Solar Decathlon in Washington D.C., a week-long event established by the U.S. Department of Energy in 2002 celebrating innovation, energy conservation and sustainable design. The biennial competition transforms a portion of the National Mall into a solar village in West Potomac Park with twenty concept homes, designed and built by university-led teams from across the globe, on display and open to the public for educational tours.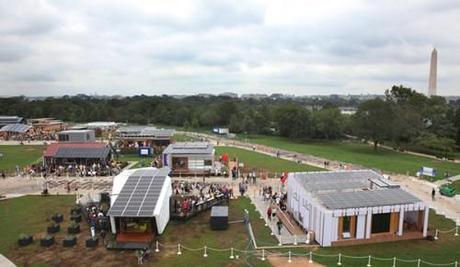 Credit: Stefano Paltera/U.S. Department of Energy Solar Decathlon
Per the rules established by the Department of Energy, teams are judged on ten criteria, including energy, appliances, hot water, home entertainment, comfort zone, affordability, architecture, market appeal, engineering, and communications.
The final winner will be determined after the completion of judging for all criteria is complete and announced on October 1st. So far, the following three teams are in the lead, based on scoring from four of the above categories.
Inspired by the ecosystems of the Chesapeake Bay, the University of Maryland's WaterShed addresses water conservation and energy efficiency with greywater system, a constructed wetland, edible wall and green roof.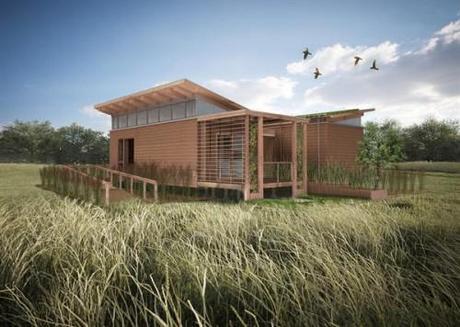 credit: University of Maryland Solar Decathlon team
Ohio State University's enCORE is based on the concept of increased efficiency while providing functional, livable spaces, including increased outdoor spaces.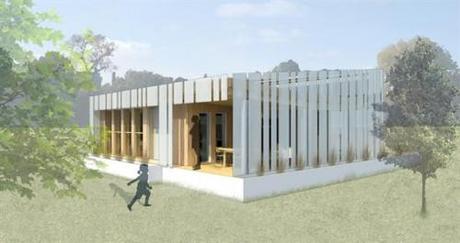 credit: Ohio State University Solar Decathlon team
Purdue University's INhome is focused on passive strategies and cost-effective measures targeting the typical Midwestern consumer.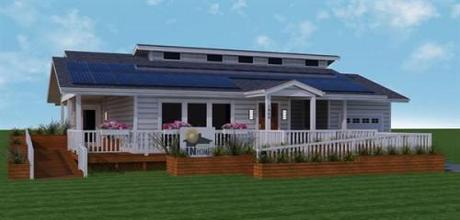 credit: Purdue University Solar Decathlon team
In a few days, the final scores will be released, determining this year's winner. Check out the other entries at the official Decathlon website, and let us know which are your favorites!
Also worth noting is that the public exhibit is supplemented with free workshops and presentations for both consumers and design professionals. By creating an inclusive and accessible forum for individuals to learn about energy and new technologies, the Decathlon gives visitors the inspiration and opportunity to take action and implement these innovative strategies in their own homes.
And what could be better than that?