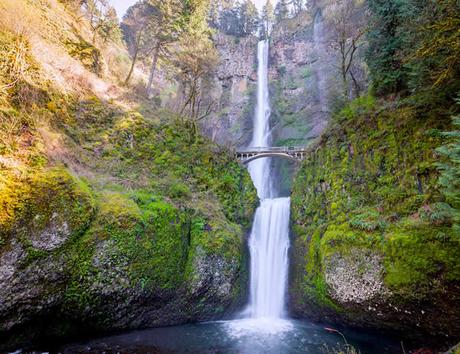 Oregon's Multnomah Falls, a short drive from our workshop, reminds us why we like this planet so much!
Happy Earth Day from Oregon!
Every time April 22 rolls around, we are encouraged to remember just how precious and amazing the Earth is. From taking a hike with a friend to tending to your garden, there are SO many ways to appreciate our planet! Here at Softstar, walking lightly on the earth has always been one of our CORE VALUES and we are constantly searching for new ways to incorporate sustainability into our everyday practices. Our future plans include raised vegetable gardens behind our workshop, a rainwater catchment system (for watering the garden), bird habitats and a compost pile on site. We also have plans to install solar panels at our newly restored workshop in the next two years! Preserving and honoring the earth is so important to us, and we strive every day to do our part in conserving resources.
Here are some things we currently do around the workshop to help make our customers, ourselves, and the planet a little healthier!
Sustainable, Non-Toxic Materials: We are careful to source environmentally-friendly materials for our shoes, including leather colored with food-grade dyes and non-toxic adhesives. This creates a healthier product for the environment and our customers. We also source our leathers from ecologically responsible tanneries that meet high quality standards.
Upcycled Leather: We use as much of each leather hide as possible in order to reduce waste and conserve resources, and the scraps we do produce are free to local customers who often use them for craft projects. We also donate leather scraps to local schools and businesses, and sell scrap bags on our website for only the cost of shipping.
Alternate Transportation Incentives: Softstar encourages employees to take alternative transportation, and offers a monthly incentive for doing so! Rain or shine, about half of Softstar employees do not drive their own cars to work.
Minimal Packaging: We use minimal packaging to ship our products while still protecting them in transit. Whenever possible, we ship our shoes using recyclable and reusable EcoEnclose poly mailers. Our more structured shoes are shipped in recyclable boxes and wrapped in tissue paper made from 100% recycled materials. We also collect packing material from local bookstores and newspapers to reuse in shipping as needed.
Local Production: We provide good jobs in our community by handcrafting all of our Softstar shoes at our Philomath, Oregon, workshop rather than overseas.
Ebay Resale: In order to reduce waste and get the most out of our products, we introduced a Softstar Resale page that uses an Ebay tool to create a community where customers can buy and sell their used shoes to each other. This helps ensure that each pair of shoes can be enjoyed as long as possible!
Reducing Waste: To reduce waste at our workshop, we use low-flow water systems, washable hand towels, 100% LED lighting, and recycling bins for a wide variety of materials (even materials that are harder to recycle like metal and Styrofoam!). We also reuse scrap paper and
Radiant Heat Flooring: Our new Philomath workshop uses radiant floor heating as a more efficient alternative to baseboard or forced air.
Workplace Recycling: we have bins not only for common commingled items, but also materials that are harder to recycle such as metal, soft plastic and Styrofoam. Founder Elf Tim makes regular trips to dispose of these bins at our community recycling center.
Though we are proud of what we can accomplish in our efforts to conserve, there's always more that can be done! How will you show your appreciation for the planet this Earth Day? What inspires you to be the best citizen of the Earth you can be? We'd love to hear your thoughts and ideas!
Related Posts:
Every Day is Bike-to-Work Day at the Softstar workshop!
Softstar Volunteers at SAGE Community Gardens