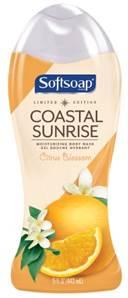 Sometimes, it's the little things that get me excited, and the release of new Softsoap Limited Edition Body Washes is one of them! It seems like just about the time I'm running low on body wash, they come out with new editions that I'm so excited to try. Softsoap's latest body washes are a reflection of summer and help keep the skin moist and hydrated. They include:
Softsoap Limited Edition Coastal Sunrise™ Moisturizing Body Wash
Awaken your senses with the new limited edition Coastal Sunrise™ moisturizing body wash. Watch the summer season bloom before your eyes, as the invigorated scent of Citrus Blossom surrounds you and the moisturizing formula leaves skin feeling soft and smooth. I love the peppy addition of the citrus fragrance, which makes me feel refreshed and summery!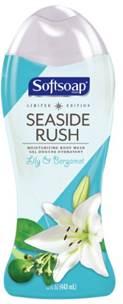 Softsoap Limited Edition Seaside Rush™ Moisturizing Body Wash
This summer, set sail with the new limited edition Seaside Rush™ moisturizing body wash. Celebrate the warmer weather with the refreshing scents of Lily & Bergamot, which will captivate your senses and leave skin feeling soft and radiant. I love this floral scent. It's not too heavy, just the perfect amount of fragrance to make me smell like a summer garden without being overpowering. And, of course, my skin always feels smooth and clean after using any Softsoap body wash!
I'm a huge fan of Softsoap body washes. I hope you'll join me in my excitement for these new Limited Edition scents. Head on over to Walmart through September to find these wonderful new body washes from Softsoap at a price that won't break your budget.

Disclosure: I received complimentary product samples to facilitate my honest review. All opinions are 100% my own.