New to little Indiana? Subscribe for free to my RSS feed. Thanks for stopping by!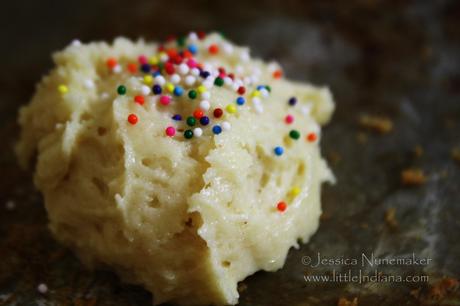 Soft Sugar Cookie Recipe: The Dough
This soft sugar cookie recipe is great when you don't have time to spend rolling out cookies. Cake-like in texture and puffy–it's like a sugary little pillow of deliciousness.
I have used Butter and Margarine with equal success. To make Sour Milk, simply add 1 Tablespoon of Lemon Juice to the cup of Milk. Easy, peasy!
While I love a good frosted sugar cookie, these can't be beat in terms of preparation. Church cookbook recipes are the best! Enjoy!
Soft Sugar Cookie Recipe
2 Cup Sugar
1/2 Cup Shortening
1/2 Cup Margarine or Butter, Softened
3 Eggs
1 teaspoon Vanilla or Nutmeg
1 Cup Sour Milk or Buttermilk
2 teaspoons Baking Powder
1 teaspoon Baking Soda
4 to 6 Cups All-Purpose Flour
How to Make Soft Sugar Cookies
350* oven.
Combine Sugar, Shortening, and Butter (or Margarine).
Add in Eggs and Vanilla Extract or Nutmeg.
Dissolve Baking Soda in 1/8 Cup Boiling Water. Add in Sour Milk, Dissolved Baking Soda, and Baking Powder.
Use 4 to 6 Cups All-Purpose Flour. The more Flour, the flatter the cookie. I prefer 4 1/2 to 5 Cups of Flour. Mix just until combined.
Using a 1 1/2 Tablespoon Cookie Dough Scoop, measure out dough. Plop it down a few inches apart–the less flour you use, the more they will spread.
Top with Sprinkles for a fun touch.
Bake from 15-18 minutes depending on the heat of your oven. The edges will brown and the Soft Sugar Cookies will firm up.
Find more Soft Sugar Cookie images and other pictures in Indiana on my Flickr photostream.
little Indiana: Where to Stay, Play, and Eat in Small Towns in Indiana. Discovering Indiana's best small towns! Now get little Indiana on your Kindle.
New! Offering affordable online advertising for your small Indiana business! little Indiana Businesses is the online presence that you've been looking for.