We had the honor this week to present our workshop's sutatinable practices at the quarterly meeting of the Corvallis Sustainability Coalition.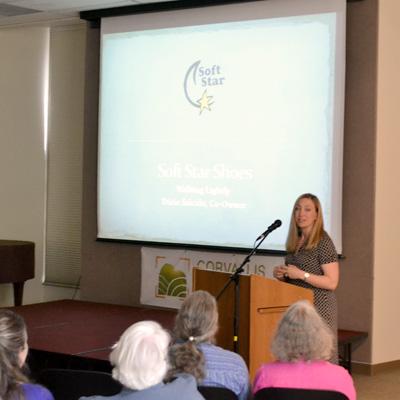 Soft Star co-owner Tricia Salcido discusses sustainable practices for businesses.
The Corvallis Sustainability Coalition is a network of organizations and individual volunteers in Corvallis, Oregon, who are working together to create a sustainable community. It includes businesses, non-profits, faith communities, educational institutions, and government entities that are committed to creating a community that values environmental quality, social equity, and economic vitality.
Soft Star co-owner Tricia Salcido took the floor and began by telling the history of Soft Star Shoes. Our founder, Tim Oliver, is a strong proponent of walking lightly on the Earth, and he and his wife began their family shoemaking business as a means of making the shoes they wanted in an eco-friendly way. Tim is still an active part of our workshop, and his values have helped form our core values of sustainability.
Handcrafting products locally instead of outsourcing overseas or using assembly-line machinery.
Offering incentives to employees who commute by bike.
Measuring and reducing leather scrap waste, and donating leftover scraps for crafts.
Sourcing formaldehyde-free leather from within the USA (except for highly sustainable vegetable-tanned leather from Germany).
Using solar panels to offset our electric carbon footprint.
Sorted recycling bins in our workshop for both common commingled recycling and hard-to-recycle items, such as batteries, Styrofoam, soft plastics, metal and hazardous waste (we also compost food waste).
We're very proud to be part of a company that makes environmental sustainability a priority, and to be part of a community that encourages these values. For more information about our sustainability efforts, visit our Citizen of the Earth page.