New to little Indiana? Subscribe for free to my RSS feed. Thanks for stopping by!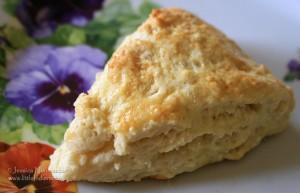 Soft Scones Recipe
Flaky and buttery, this soft scones recipe is so good! They are only slightly more difficult to whip up than your basic biscuit recipe.
I thought scones were hard and tasteless–until I had a soft and wonderful scone at Beyond My Garden Gate Tea Room in Delphi, Indiana. Just amazing.
Since that fantastic shop has since closed, and I can't begin to tell you how sad that makes me, I just had to find a different scones alternative. Enter this soft scones recipe.
Soft Scones Recipe
Print Soft Scones Recipe
Rating: 51
Prep Time: 20 minutes
Cook Time: 15 minutes
Total Time: 35 minutes
Yield: 16 Scones
Serving Size: 1
170
6g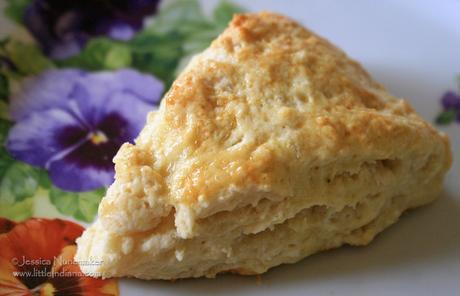 Delicious scones recipe from King Arthur Flour. I believe I know a few small town bookstores who can find you a copy of this great cookbook.
Ingredients
3 Cups Flour
1/3 Cup Sugar
1/4 Cup Nonfat Dry Milk
3/4 teaspoon Salt
1 Tablespoon Baking Powder
3/4 Cup Dried Fruit (optional, I did not add any)
2 Eggs
2 teaspoons Vanilla Extract
1/2 Cup Milk, Buttermilk, or Water
8 Tablespoons Butter, Cold OR Combination of Butter and Shortening
1 Egg, Beaten with 1 teaspoon Water, for topping
Coarse Sugar or Cinnamon-Sugar, for topping (Optional, I did not do)
Instructions
Preheat 450*
Whisk together dry ingredients (and dried fruit, if using).
In separate bowl, whisk together Eggs, Vanilla, and Milk.
Cut in Butter (or Butter and Shortening combination) but be sure to leave some chunks the size of peas to ensure a flaky.
Add in liquid mixture to flour mixture. Do not over-mix.
Fold everything together until moistened.
Turn dough out onto a lightly floured surface and fold over until it becomes a more solid unit.
Divide in half.
Place on parchment-lined baking sheet.
Pat into 7" circle about 1/2 thick, then cut each circle into 8 wedges.
Be sure to leave 1/2" between each scone with 1/4" in the center.
Using a pastry brush, smooth Egg and Water mixture over each scone.
Sprinkle with Sugar or Cinnamon-Sugar if desired.
Bake 7 minutes. DO NOT OPEN OVEN DOOR! Bake, with oven OFF, for 8 - 10 minutes more or until scones are golden brown.
Serve warm. Best within a few hours of baking.
Schema/Recipe SEO Data Markup by ZipList Recipe Plugin2.0http://littleindiana.com/2012/03/soft-scones-recipe/Photos are the Property of little Indiana. Do Not Use Without Permission.
little Indiana: Where to Stay, Play, and Eat in Small Towns in Indiana. Discovering Indiana's best small towns! Now get little Indiana on your Kindle.
Targeted. Relevant. Affordable! little Indiana advertising.