2 Flares
2 Flares
×
New to little Indiana? Subscribe for free to my RSS feed. Thanks for stopping by!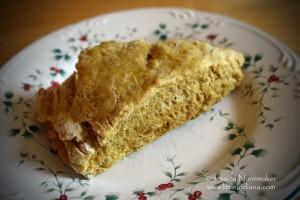 Soft Pumpkin Scones Recipe
My husband is a huge fan of pumpkin and we both love scones so this recipe for Soft Pumpkin Scones was a great combination.
This Pumpkin Scones Recipe produces a lightly flavored Pumpkin Scone that's a nice subtle shade of orange. Our boys thought these were wonderful!
It will be on our "to make again" list for sure. I'm thinking it would be easy to stir in 1/3 cup raisins or pecans for a change of pace.
Soft Pumpkin Scones Recipe
Print Soft Pumpkin Scones Recipe
Rating: 51
Prep Time: 15 minutes
Cook Time: 20 minutes
Total Time: 35 minutes
Yield: 16 Scones
Serving Size: 1 Scone
338
13 Grams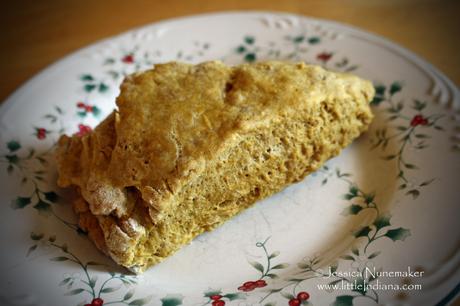 From Taste of Home.
Ingredients
4-1/2 Cups Flour
1/2 Cup Packed Brown Sugar
4 teaspoons Baking Powder
3 teaspoons Pumpkin Pie Spice
1 teaspoon Cinnamon
1/2 teaspoon Baking Soda
1/2 teaspoon Salt
1 Cup Cold Butter
2 Eggs
1-1/4 Cups Canned Pumpkin
3/4 Cup Milk, Divided
Instructions
Combine first seven ingredients.
Cut in Cold Butter until mixture resembles coarse crumbs.
In separate bowl, combine Eggs, Pumpkin, and 1/2 Cup Milk.
Stir into Dry Ingredients just until moistened.
On floured surface, knead seven times (I sometimes knead scones in the bowl).
Divide dough into half and pat into two 8" circles. Cut into wedges and separate on ungreased baking sheets.
Brush with remaining milk.
Bake 400* for 15 - 20 minutes or until light golden brown.
Serve Warm.
Notes
I subbed in Pumpkin Pie Spice for the Cinnamon.
Schema/Recipe SEO Data Markup by ZipList Recipe Plugin2.0
http://littleindiana.com/2012/09/soft-pumpkin-scones-recipe/
Photos are the Property of little Indiana. Do Not Use Without Permission.
Find pictures in Indiana on my Flickr photostream or on the new little Indiana Tumblr blog.
Just don't forget to tell 'em that  little Indiana sent you!
Don't miss a moment. Subscribe to little Indiana and receive instant updates to stay on top of everything "little."
little Indiana: Where to Stay, Play, and Eat in Small Towns in Indiana. Discovering Indiana's best small towns! Now get little Indiana on your Kindle.
Targeted. Relevant. Affordable! little Indiana advertising.