What do you get when you combine warm, soft pretzels with delicious hot dogs? PretzelDogs, of course! SUPERPRETZEL, the makers of America's #1 soft pretzel, has combined top quality beef (with no by-products) with their delicious soft pretzel dough to create a treat that everyone in the family will love. PretzelDogs make great snacks for the kids, appetizers for your next gathering, or even an addition to your next meal! I love that you can make them in a conventional oven, toaster oven, or the microwave (a great option for kids). Just pull them out of the freezer and bake!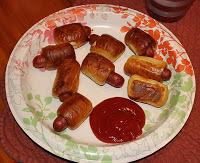 My children and I were given the opportunity to try both varieties of PretzelDogs: Original and Cheddar Cheese. The Cheddar Cheese flavor has little bits of cheese embedded in the hot dog. The pretzels came out of the oven soft and warm, and the hot dogs inside were so tasty! We dipped our PretzelDogs in ketchup, but you can select your own condiment or even eat them plain since they're already so flavorful. We all loved both varieties of the SUPERPRETZEL PretzelDogs and gobbled them up.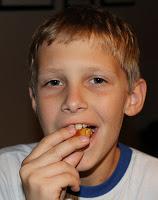 Visit www.superpretzel.com to learn more about PretzelDogs and all of the other wonderful products made by SUPERPRETZEL. (I've got my eye on their Sweet Cinnamon Soft Pretzels for my next purchase!) Follow them on Facebook and Twitter, too!