0 Flares
0 Flares
×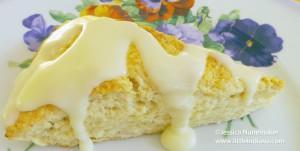 Lemon Scones Recipe with Lemon Icing
What an amazing soft
Lemon Scones with Lemon Glaze Recipe
! These gorgeous scones are so incredible, the boys and I just couldn't get enough of them!
If you are familiar making scones recipes, you know that they are so simple! This Lemon Scones recipe is no different.
Unlike most of the scones recipes on little Indiana, this one does use cream instead of milk. I have subbed in a bit of orange peel for the lemon with great result. I've already made these lemon scones two times this week alone!
Soft Lemon Scones with Lemon Glaze Recipe
Print Soft Lemon Scones with Lemon Glaze Recipe
Rating: 51
From Food.com
A wonderful recipe! We chose to omit the Raisins. We eat these Lemon Scones plain. They are so incredibly soft!
In a pinch, I have subbed in Orange Peel for Lemon Peel with equally great results.
Ingredients
2 Cups Flour
1/3 Cup Sugar
1 Tablespoon Baking Powder
1/4 teaspoon Salt
1/2 Cup Golden Raisins, Coarsely Chopped (Optional)
1 teaspoon Lemon Peel, Finely Grated
1 Cup Whipping Cream
2 - 4 Tablespoons Water
Instructions
375* oven.
Combine Flour, Sugar, Baking Powder, and Salt.
Stir in Raisins (if using) and Lemon Peel.
With a fork, stir in Cream and only as much Water as needed to make dough form into a ball.
On a floured surface, knead 5 times, and place on greased or parchment lined cookie sheet.
Pat kneaded dough into 8" circle.
Slice into wedges.
Bake 20-30 minutes or until golden brown.
Remove to wire rack to cool.
Serve warm or at room temperature with Lemon Curd or plain (like we eat them).
With a sharp knife, cut halfway through the dough to mark into 12 wedges. Bake 20 to 30 minutes, until golden brown; remove to wire rack to cool.
Cut into wedges while still warm, or cool completely before cutting.
Serve warm or at room temperature with lemon curd.
Schema/Recipe SEO Data Markup by ZipList Recipe Plugin2.2
http://littleindiana.com/2014/01/soft-lemon-scones-with-lemon-glaze-recipe/
Photos are the Property of little Indiana. Do Not Use Without Permission.
Small Towns: Destinations, not Drive-Thrus! I'm Jessica Nunemaker and THIS is little Indiana!
Find pictures in Indiana on my Flickr photostream or on the new little Indiana Tumblr blog.
Just don't forget to tell 'em that  little Indiana sent you!
Don't miss a moment. Subscribe to little Indiana and receive instant updates to stay on top of everything "little."
little Indiana: Where to Stay, Play, and Eat in Small Towns in Indiana. Discovering Indiana's best small towns! Now get little Indiana on your Kindle.
Targeted. Relevant. Affordable! little Indiana advertising.