0 Flares
0 Flares
×
New to little Indiana? Subscribe for free to my RSS feed. Thanks for stopping by!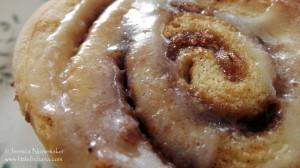 Soft Cinnamon Rolls Recipe
We've got a thing for warm breakfast foods in our home–and this soft cinnamon rolls recipe is fantastic!
As with yeast cinnamon roll recipes, you will need to plan ahead but it's so worth it.
If you are short on time, try the no-rise cinnamon rolls recipe. It's great in a pinch!
Soft Cinnamon Rolls Recipe
Print Soft Cinnamon Rolls Recipe
Rating: 51
Prep Time: 20 minutes
Cook Time: 30 minutes
Total Time: 3 hours
Amazing recipe for soft cinnamon rolls. From Paula Deen.
Ingredients
Dough:
2 1/2 teaspoons Yeast
1/2 Cup Warm Water
1/2 Cup Scalded Milk
1/4 Cup Sugar
1/3 Cup Butter or Shortening
1 teaspoon Salt
1 Egg
3 1/2 to 4 Cups Flour
Filling:
1/2 Cup Melted Butter
3/4 Cup Sugar
2 Tablespoons Ground Cinnamon
3/4 cup Raisins, Walnuts, or Pecans (Optional)
Glaze:
4 Tablespoons Butter
2 Cups Powdered Sugar
1 teaspoon Vanilla Extract
3 to 6 Tablespoons Hot Water (I used Milk)
Instructions
350* Oven.
Dough
Dissolve Yeast in Warm Water in small bowl.
In a large bowl combine Milk, Sugar, Melted Butter, Salt and Egg.
Add 2 cups of Flour and mix until smooth.
Add Yeast mixture and mix in remaining Flour until dough is easy to work with.
I used my dough hook to knead the dough for 5-10 minutes but you can knead by hand.
Place in well-greased bowl, cover and let rise until doubled in size, 1 to 1 1/2 hours.
When doubled in size, punch down dough.
On a floured surface, roll dough into 15 x 9 rectangle.
Spread melted butter on dough.
Combine Sugar and Cinnamon and sprinkle over buttered dough.
Sprinkle on Walnuts, Raisins, or Pecans (if using, I do not).
Beginning rolling at the long side (the 15" side).
Roll up and pinch edges to seal.
Cut into 12 to 15 slices.
Place in bottom of greased pan and let rise 45 minutes or until dough is doubled.
Bake 30 minutes or until lightly browned.
Glaze
Meanwhile, combine Butter, Powdered Sugar, and Vanilla.
Add Hot Water (or Milk) 1 Tablespoon at a time until desired consistency is achieved.
Spread over slightly cooled rolls. If you do not wait (and we did not) the glaze will melt on the rolls.
Schema/Recipe SEO Data Markup by ZipList Recipe Plugin2.0http://littleindiana.com/2013/03/soft-cinnamon-rolls-recipe/Photos are the Property of little Indiana. Do Not Use Without Permission.
Find pictures in Indiana on my Flickr photostream or on the new little Indiana Tumblr blog.
Just don't forget to tell 'em that  little Indiana sent you!
Don't miss a moment. Subscribe to little Indiana and receive instant updates to stay on top of everything "little."
little Indiana: Where to Stay, Play, and Eat in Small Towns in Indiana. Discovering Indiana's best small towns! Now get little Indiana on your Kindle.
Targeted. Relevant. Affordable! little Indiana advertising.