New to little Indiana? Subscribe for free to my RSS feed. Thanks for stopping by!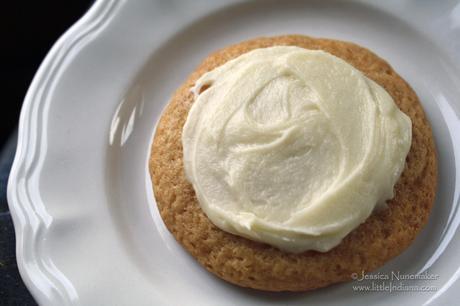 Soft Brown Sugar Cookies Recipe
Cookies recipe
Frosted with brown butter frosting, they have suddenly become the favorite of Kid #1 too! Now that's impressive.
I have no little hints or tricks this time. These are easy to whip up and do not require any dough refrigeration beforehand. Now that's a sugar cookie I can love!
Soft Brown Sugar Cookie Recipe
Print Brown Sugar Cookies
I found this website while scouring the web. Unfortunately, the site seems to have disappeared!
Good thing I kept my notes and can store it here on little Indiana.
Ingredients
2/3 Cup Butter or Margarine, Softened
1 1/2 Cups Brown Sugar, Packed
2 Eggs
1 teaspoon Vanilla Extract
2 1/2 Cups Flour
1 teaspoon Baking Soda
1/2 teaspoon Baking Powder
1/2 teaspoon Salt
1 Cup Sour Cream
Frosting
1/4 Cup Butter or Margarine
1 1/2 Cups Powdered Sugar
1/2 teaspoon Vanilla Extract (my addition)
2 Tablespoon Milk (more or less)
Instructions
Mix together Butter and Brown Sugar in mixer bowl.
Add in Eggs one at a time, beat well.
Add in Vanilla Extract.
Combine Dry Ingredients.
Add to mixer bowl alternating with Sour Cream.
DO NOT overbeat.
Drop dough by tablespoons onto greased cookie sheet (I used parchment paper and a 3 Tablespoon Cookie Dough Scoop).
Bake 350* for 8-12 minutes depending on your oven and the size of your cookies.
Cool.
FOR THE FROSTING
Melt Butter.
Once it turns golden, quickly remove from heat and stir in Powdered Sugar and Vanilla (if using).
Add in Milk as needed to reach your desired consistency.
Frost cooled cookies.
Schema/Recipe SEO Data Markup by ZipList Recipe Plugin2.0
http://littleindiana.com/2012/03/brown-sugar-cookies-recipe/
Photos are the Property of little Indiana. Do Not Use Without Permission.
little Indiana: Where to Stay, Play, and Eat in Small Towns in Indiana. Discovering Indiana's best small towns! Now get little Indiana on your Kindle.
Targeted. Relevant. Affordable! little Indiana advertising.