Before I get too far into things, I will start with a disclaimer that my emotional investment in the forthcoming subject matter is a little ridiculous. But that's how I roll…just slightly on the side of ridiculous. That being said, I announce the following: Heath and I decided to ditch the sectional sofa formerly known as The Most Comfortable Couch in the World.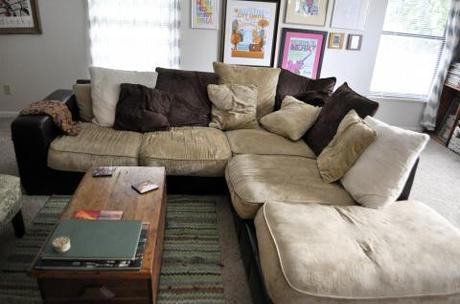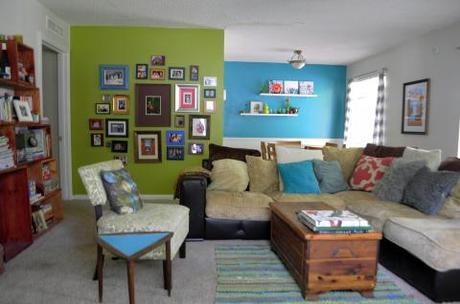 I admit the sofa wasn't much to look at, but the hand-me-down sectional was a pretty big part of our lives for the past 4 years or so. It moved with us from our place in North Campus where Heath and I first lived together, to our 36th street cottage, and now to our current abode. I had gotten pretty accustomed to having it around. It's been the resting place for dozens (Maybe hundreds? No…dozens.) of overnight guests throughout the years and was THE place to be on movie nights. It was a magical sofa that endured splendidly the wear and tear of my playful pets and red wine spills without showing stains. It was the sort of couch that, even if you had the intention of resting there for only a few moments, could convince you to stay and hang out for the duration of, oh say, an entire season of Downton Abbey. It was that good. Ask anyone.
So, it was sort of a big deal that we decided to put the old girl on craigslist. You see, in our house, most of the stuff is either:
Hand-me-down (armoire, couch, coffee table)
Purchased second-hand (dining room table, TV credenza, bedroom dresser)
Made by Heath (office day bed, office desk, our bed, book shelf)
Nothing's wrong with any of that of course. In fact, normally I prefer it. But after a point I REALLY wanted the opportunity to pick something out for ourselves; something that felt like us and not like the discarded collections of others. And since I've settled into my new job and Heath's been enjoying his new title at work, we thought why not "TREAT YO SELF." And the couch was put up for sale in the hopes we could trade it for something a little more slick, stylish and, dare I say, sexy?
And what's more sexy than IKEA couches?! AmIRightLadies?!?!?!
Yeah, I know that saying an IKEA couch is some kind of an upgrade over any situation might be treason to some folks, but bear with me here. I recently stumbled upon of the most genius, cost-saving ideas invented in the history of ever: the customizable Karlstad. It was brought to me by the folks at our mid century who proved that IKEA affordability + creativity = wonderfully attainable personal design. They picked up the Karlstad sofa, switched out the legs and tufted the cushions for a look that is completely, one-hundred-percently up my alley—a 50s-60s vibe on a comfortable sofa for a fraction of the cost of what designer furniture costs. Sign. Me. Up.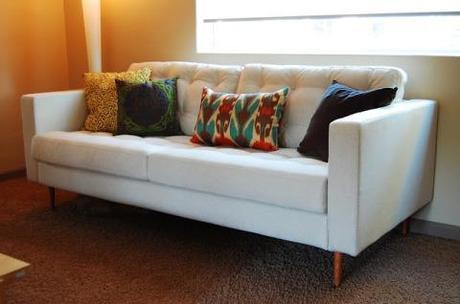 The IKEA Karlstad turned midcentury.
After making that discovery, all bets were off. I knew what I had to do. The sectional went up on craigslist and we headed to IKEA. Next thing we know, this is our living room.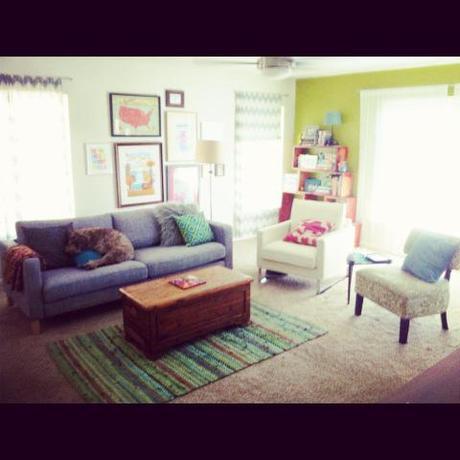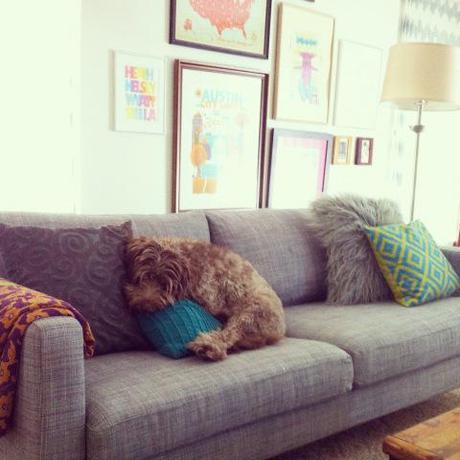 It was a little sad to see the beloved old sectional go, but we're all pretty happy (Stella included) with the new addition. Now, if you'll excuse me, I have some couch potato-ing to do.