2015 was a quiet year on the blog, but it wasn't due to there being a lack of projects for us to get our hands on. I'm disappointed in myself that I didn't write about them at the time (though some ended up on instagram so, partial credit?) but as they say… better late than never. Behold three never before seen Doodle House DIYs from 2015:
Chicken Proof Gardens
We love giving the chippies yard time outside of the coop because a happy chicken means better eggs and more of 'em. But as most gardeners know, they can wreck havoc on a garden if left unattended.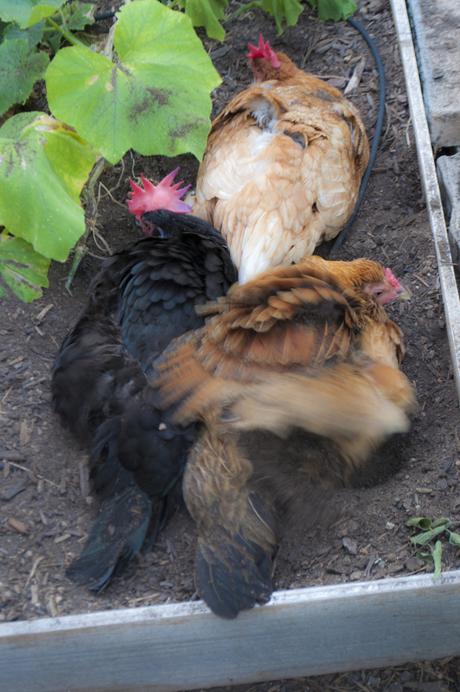 Chickens love a good dust bath—but why does it have to be in our veggie garden?
In our old place, we built small fence around our gardens to keep the critters out, but that effort was short lived since the chickens eventually mastered the art of fence jumping.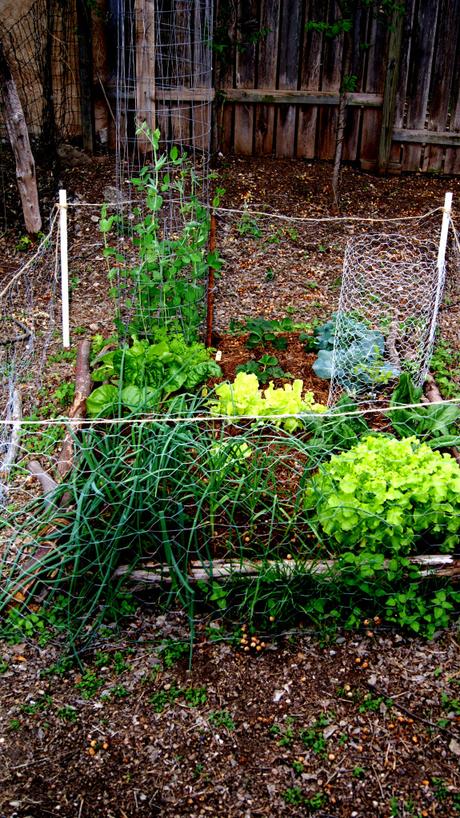 Crude chicken wire we set up to protect our garden
Ultimately we decided that each individual garden would need its own sturdy enclosure that protected the perimeter and the top from not only the chickens, but other garden vermin as well. This design was dreamed up by Heath, and was modeled after a few similar projects we hunted down on pinterest.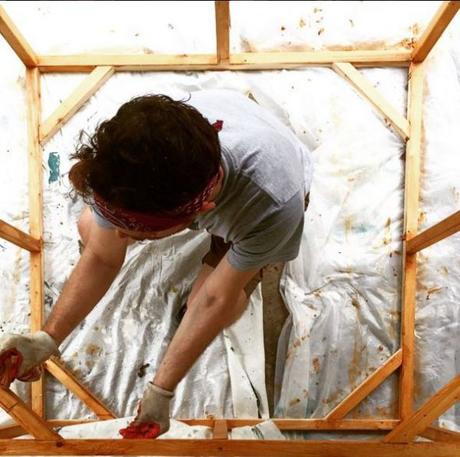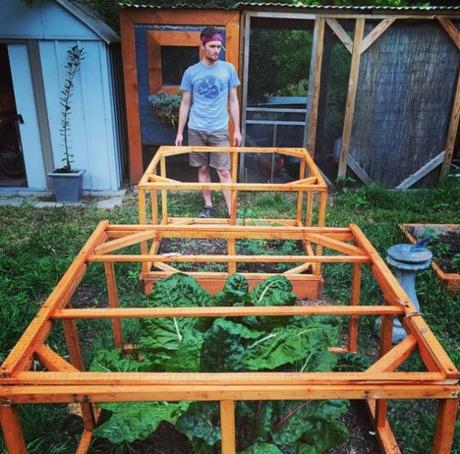 Each box required nine 2″x 2″ x 8″ furring strip boards we picked up at Home Depot for about $2 each — bringing the total project cost to about $75. Not too bad for the peace of mind it also bought us knowing we could now have happy chicks AND a happy garden.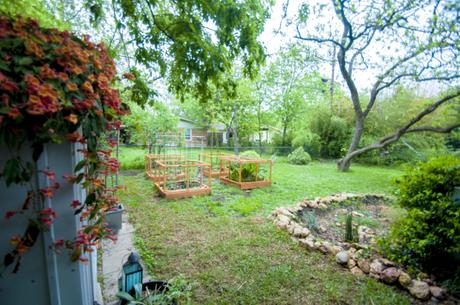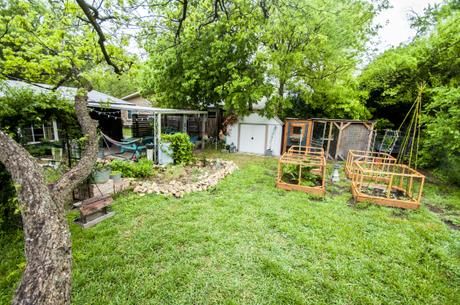 (Partly) New Coffee Table
Heath and I have never bought a coffee table. We've always been able to get our hands on one for free — though this method is friendly on the wallet, it sometimes leaves us with the less-than-ideal version for our space. The first was an old hand-me-down cedar chest I acquired in college that was great for storage, but a little small for the room. And truth be told, she was a little rough around the edges from so much wear and tear over the years, and maybe a few too many drinking games.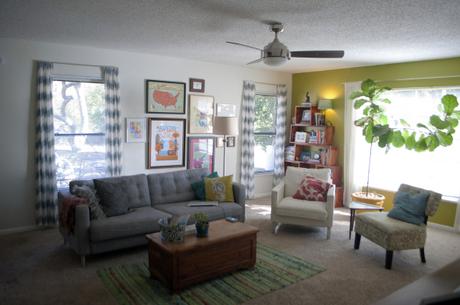 Then we inherited a long and low tile top coffee table built by my grandfather. I loved the style, but it was really a little too long and didn't give us many options for furniture layout. As I am constantly redesigning and reorganizing, this was a problem. Just call me Goldilocks.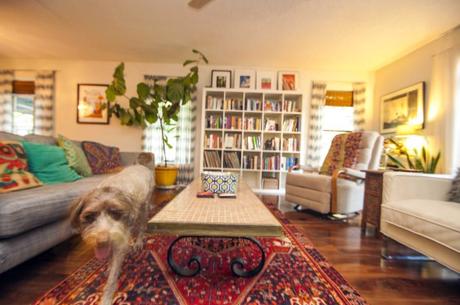 So we opted to re-purpose the iron legs from the handmade coffee table and assembled a new, slightly shorter top out of cedar. Total cost of the redux? About $36. LOVE how it turned out. Can't figure out why we didn't try this sooner.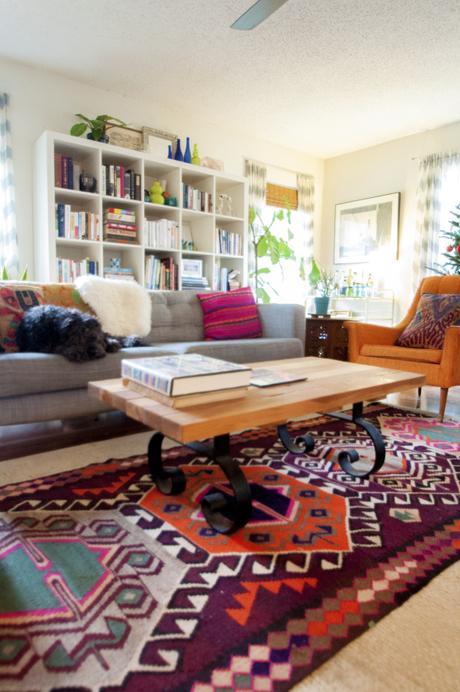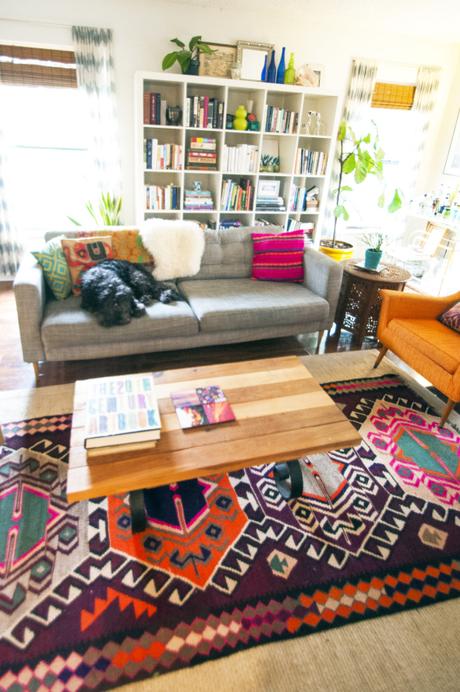 Getting in touch with my artistic side
This year, spring in Austin was very rainy and very wet. Which meant the time I had planned to spend outdoors gardening, needed to be rethought. But rather than let a little water get me down, I let a little water color and acrylic paint lift me up and help keep my creative juices flowing. I've not taken any classes (painfully obvious) but I've been experimenting a lot — sometimes creating things from images I've seen, sometimes imagining things from nothing. I'm still very much a novice but it's been really exciting to revisit an activity I loved as a child but until this year had not really been brave enough to explore as an adult.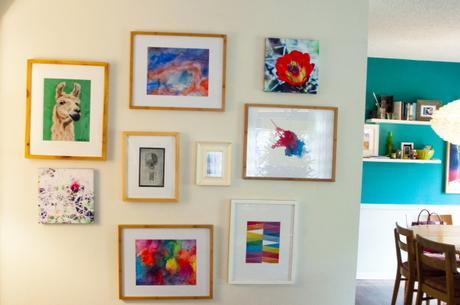 A mix of some of my water colors, photography, graphic design and a few works by local artists.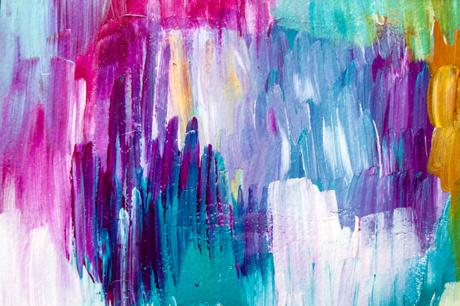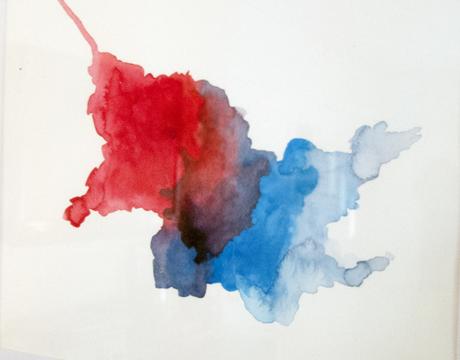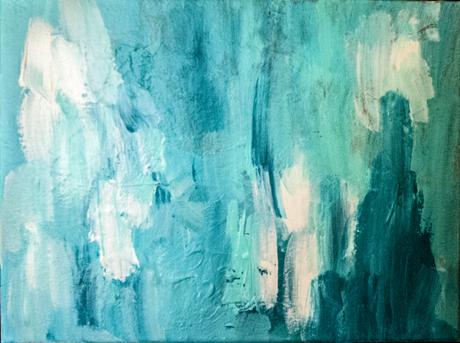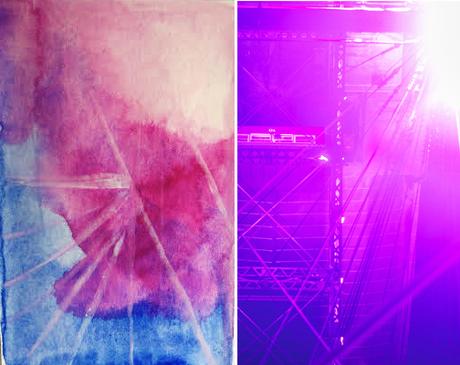 Inspired by the view from the Wiener Riesenrad — a ferris wheel in Vienna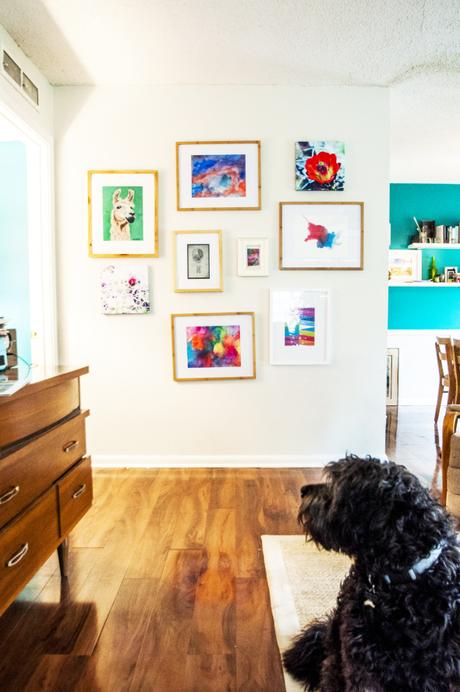 At least Wyatt seems into it?
This hardly captures all of the untold adventures and lessons that 2015 had in store, but it's a start, and a good reminder that a heart-felt DIY project, no matter how small, can still result in an abundance of joy.