When it comes to creating PDF files, there are lots of software packages out there that lets you turn your documents into PDF files. Although, they all come in very expensive price tags, mostly way above $150 USD. If you're looking for an affordable solution, let me introduce you to Soda PDF. With pricing plans starting at $50 for standard users and $99 for Pro users, Soda PDF comes with tons of great features to let you easily view, convert and create PDF files and even save them in your own personal cloud account.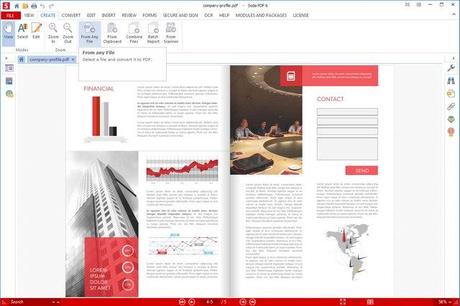 The most admirable feature of Soda PDF is its user friendly interface, which makes you feel like you're using a Microsoft Office app, and it makes creating and converting PDF files extremely easy, even for a person with no knowledge about PDF file handling.
Creating PDF files with Soda PDF is as easy as eating cake. The simple create "From Any File" button lets you instantly create PDF files from any file format you want, Microsoft Word, text, Excel, HTML, or even with JPEG, PNG, GIF files, you name it. You can also create PDF files directly from the clipboard or even combine several files into one PDF file. And then when you're done, you can view your files in the awesome 3D viewer that comes with Soda PDF to read your documents on your computer like real books and magazines.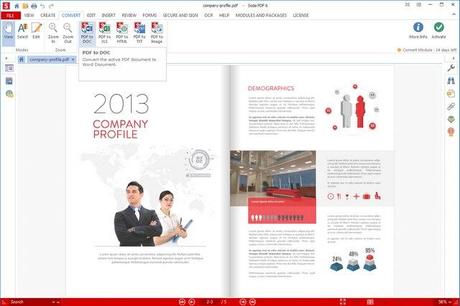 With Soda PDF, you also get the function to accurately transform your PDF files back into other formats like Word, Powerpoint, HTML, XLS or even into Images, so you can edit your PDF files again and again, without having to worry about making a mistake.
In addition, Soda PDF 6 PRO comes with several other modules that lets you directly edit and customize your PDF files instantly, a module for creating fillable forms inside your PDF files, another module for securing your files with 256-bit passwords an OCR module for converting your scanned documents into editable PDF and much more. They even offer you the option to customize your price plan by picking only the most important modules you want. This is one of the unique features you get with Sofa PDF 6, which no other application offers so far.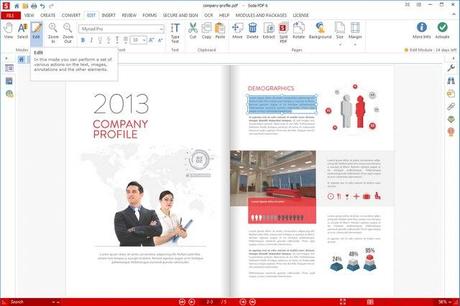 Head over to Soda PDF website and download the software for free. You get to try all the functions for 14 days before you decide on buying a package. Go ahead, give it a try.