I can remember my friend, Adrian, walking over to me when we were in veterinary school.  I knew he was up to something.  He put his arm slowly around my shoulder, and with a smirk on his face, he asked, "Lisa, do you own any article of clothing that does not have an animal on it?" 
During my years at vet school, my sister would send me clothing and jewelry with animals on them.  I had earrings, pins, ear muffs, hats, mittens, shirts, bracelets, rings, all of them featuring dogs, cats, cows, pigs, or some other critter.
I had a favorite shirt.  It was a denim button down with the front end of a cow on the front of the shirt, and the back end of a cow on the back of the shirt.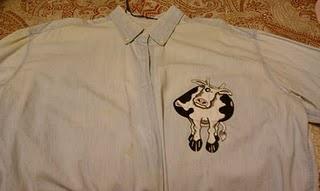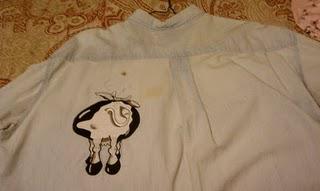 I had myself convinced that this shirt made it appear as though I had been comically pierced with a Holstein.  The shirt is now so stained, faded, and worn that it is unfit to wear, yet I will not part with it.  Perhaps I will make a little pillow out of it.
I also collected small animal doctors. I am literally referring to animals that are doctors. I have cat doctors, mouse doctors, cow doctors, pig doctors. If the nik-nak is a human doctor, then the patient being cared for is an animal of some sort.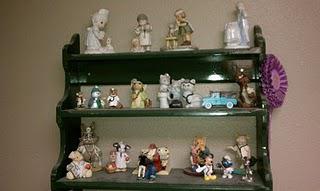 My animal item collecting has become much less aggressive, I no longer seek out dog earrings, cat bracelets, or small animal doctor nik-naks.  It is rare that I find a cute dog or cat shirt.  They often remind me of the 80's so I just walk away from them.  But my sock drawer is a completely different story!
My sock drawer is like a tiny quiet Noah's Ark.  Each sock, and its mate, are nestled safely inside my drawer.  They sit, two by two, and no two pair are alike.  My husband is convinced that these socks are reproducing as it seems to get more difficult to close the drawer.  When I see socks with animals on it in a store, I stop.  It is as though I can not rest until every animal sock is nestled comfortably in my sock drawer!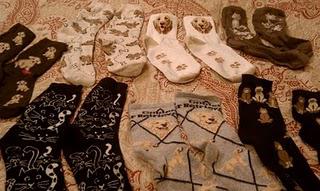 When I was fortunate enough to go to Paris, I did not bring back a miniature La Tour Eiffel, but I will encourage you to take a guess as to what I did bring back from the City of Love.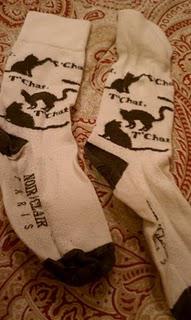 You guessed it!  French socks with kitties on them!
Not everyone sees my socks when I wear them, but I know they are there.  It is a subtle way of expressing my personality and my desire to resist growing up.
Socks are a fun collectible.  They allow you to show your personality, and yet they are completely functional.  You do not need to dedicate wall space to display them.  You do not need to install shelving.  You do not need to hang them just right, or put them in the right order for aesthetic purposes.  You need only have two feet, and you choose to whom you will show them.
Each year I retire a few pairs after they lose their elasticity, or I find they have holes.  Sock retirement is somewhat bittersweet.  No two pair in my drawer are alike, so each pair that is retired is gone for good .
Then again, with each pair that enters into retirement, I can keep my eyes open for new ones.
You are invited to share a link of the blog http://www.vetrescue.blogspot.com/ on Facebook, MySpace, or Twitter.



If you would like to receive this blog into your email inbox each time it is published, go to http://www.vetrescue.blogspot.com/ , and enter your name into the subscribe box on the upper right side of the page. The blog will send you a confirmation email. Reply as instructed in the email to confirm your subscription. This is a required step. You will then receive the blog as it is published. You will not get junk mail as a result of subscribing!
If you are new to our blog, don't forget to check out the blog archive!