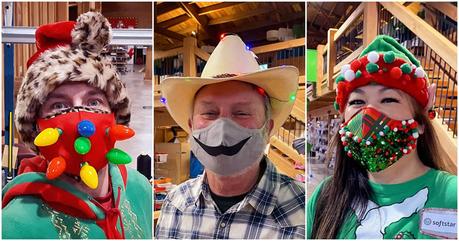 Normally, when we reach mid-December, all the shoemaking elves become very excited about Softstar's annual holiday party. This is traditionally a time we bring together all of our employees along with their close friends, families and kids. We usually get together for a fun event like bowling, miniature golf or laser tag, and it's dependably a blast.
But not this year. Because, you know... 2020.
For obvious reasons, no rager was going to happen, but that didn't mean we weren't going to make the most out of what we had. In keeping with our state-mandated safety guidelines we did what we could to hold a subdued, but still enjoyable holiday celebration last week.
There were a few rules we all agreed to follow. For starters, no families or guests were allowed, only Softstar employees. Instead of meeting at a fun venue, we hung out in the workshop after an early end to our shoemaking shift. Since most of our administrative employees are working from home these days it was a fairly small attendance, but anyone who couldn't make it was able to connect via Zoom. The shop has long been made secure by large plastic dividers and bottles of disinfectant and hand sanitizer on every table, and those were put to good use. Social distancing and masks were required, which meant mingling had to happen from across the room and sometimes through large sheets of plastic (there were many muffled conversations, and lots of "What? What did you say?"). Also, small stashes of snacks were strategically placed throughout the shop to avoid any gatherings around a single food table.
We traditionally host an ugly sweater contest, too. As you can imagine, a room full of seamstresses usually results in some very creative entries. This year, however, we decided to put a twist on that tradition and turn it into a creative homemade face mask contest.
We were not disappointed:
As far as Christmas parties go, this was definitely different from any we had experienced before. It might even be a stretch to call it a "party," but for a group of people who haven't been allowed to socialize normally for nine months it was a welcome treat.
We hope all of you have a joyous and safe Christmas and New Year! Stay careful out there and we'll (hopefully) have our ragers next year.