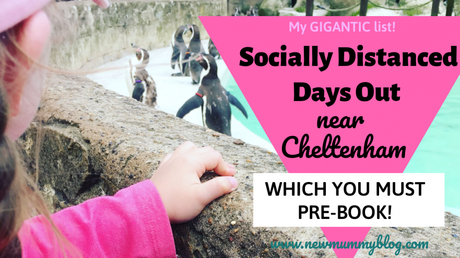 We may earn money or products from the companies mentioned in this post.
Well, isn't this all a bit different! The summer holidays are upon us and instead of popping to some of our favourite family days out most days out now have to be pre-booked online. Not everything does require pre-booking such as play parks, walks and I'll covered those days out in a separate post as well as a post on all the amazing family trails and scavenger hunts around Cheltenham too.
One thing to note is that many of these attractions and days out are now CASHLESS sites and only accept card payments, preferably contactless card payments.
If I've missed anything major, message me, comment or DM me on any of my social channels. This is a weird old time and we need to help each and every business we can.
Obviously I haven't visited everywhere on this list, and some I haven't even visited pre-lockdown, but they all come recommended from friends or have been on our 'to visit' list for many years.
MUST PRE-BOOK - Days out near Cheltenham
Within ~20 minutes drive
Sudeley Castle
Pre-book online - https://sudeleycastle.co.uk/plan-your-visit/book-tickets
Opened Monday 20th July. Gardens, playground, exhibitions, church, pantry and cafe areas are open. The private family rooms will stay closed for the duration of the 2020 season (Library, Morning Room, Chandos Bedroom and Katherine Parr Anteroom).
Prices reduced to reflect the closure of the private family rooms as follows:
Adult - £12, Child - £5, Family (2 adults, 2 children) - £30.
Carers, Historic Houses Association Members, and Blue Light Card Holders receive free entry, but must also still pre-book.
All contact details will be kept for 21 days for the Government's Track and Trace.
Jet Age Museum
1.00pm - 4.00pm, Saturday and Sundays only.
No access to the cockpits. Face coverings to be worn in the shop and cafe.
https://jetagemuseum.org/
Painswick Rococo Gardens + Summer Trail
Pre-book online - https://www.rococogarden.org.uk/
Open Thursday - Sunday only.
Temporary toilet facilities onsite in the main car park. The maze and Pigeon House are closed.
Take away only from the cafe. The play area is open. A 'family summer trail' will be running from Thursday 23rd July.
Prices: Adult £9, children - £4.10 (4-16), seniors 60+ - £8.00, students - £5.60, family (2 adults, 4 children) - £22.95.
Annual pass holders, Historic Houses Association and RHS members - FREE.
Sandford Park's Lido
Open 20th July for season ticket holders and 27th July for the public.
Pre-booking essential for each 'wave' - sessions - which I believe are 1 hour each. Info and pre-boooking here: https://www.sandfordparkslido.org.uk/
Prices: Adult £5.50, Concession* £3.50, Under 5's Free!
Family of 2 £8.00, Family of 3 £13.50, Family of 4 £15.00
No new season tickets will be available.
Paint it yourself pottery
Online booking available to avoid disappointment. Walk ins are accepted if there is room. Pottery to take away and paint is also available and online purchases will be available soon.
https://www.piyp.co.uk/
Sheridon's Adventure Golf
Tredington near Tewkesbury
Pre-book online - https://sherdonsadventuregolf.co.uk/
Prices: Family of 4: £25.95. Child 5-12: £6.50, Adult £8.50. Student: £6.50.
10% off with NHS or Defence Discount Service Defence Privilege Card (proof must be shown) - book by telephone.
Primrose Vale
Pick Your Own and play park available to book for free. Both must be booked - https://primrosevale.com/
You must have a booking for each - PYO and for the playpark or you will only be allowed whichever you booked.
They have been running low on strawberry picking, so do check their website/ Facebook page which they update daily with picking info.
Price: Slots are FREE to book.
Over Farm
Strawberry picking - must be booked here: https://www.overfarm.co.uk/farm-shop/pick-your-own/
Price: Slots are £2 per person, and this is NOT refunded off your total spend like it was in previous years.
Up to ~45 minutes from Cheltenham
Cattle Country
Pre-book online - https://www.cattlecountry.co.uk/
Most areas are open, although play barns, tractor and trailer rides, climbing net and pig racing are all closed.
Prices: all entry reduced to £6.50 for Summer 2020.
Cotswold Farm Park
Pre-book online - https://cotswoldfarmpark.co.uk/
Most areas open, although the indoor play and Farm Safari remain closed and there are no animal handling or demonstrations for the time being.
Operating a cashless system on site - only be able to take payments for food and drink by card.
Cotswold Wildlife Park
Pre-book online - https://www.cotswoldwildlifepark.co.uk/
Tickets allow you to arrive anytime in the day, but this can be busy between their peak arrival time - 10.00am -11.00am and so it is recommended to avoid those times and arrive later.
An number of areas are closed:
The Tropical House, 'Madagascar', Bat House, Giraffe House, Goat petting area in the Children's Farmyard, The Adventure Playground, 'Skymaze' and train are closed and Keeper experiences and Animal Encounters are also not running at present.
The restaurant is also closed, but kiosks are open for drinks and snacks.
Westonbirt Arboretum
Pre-book online - https://www.forestryengland.uk/westonbirt-the-national-arboretum
Most areas are open. One way systems in operation and restaurant only open for takeaway. Play park is close.
Slimbridge WWT
Pre-book online - https://www.wwt.org.uk/wetland-centres/slimbridge/
Bookings open every Wednesday morning at 9am for the following week, and you need to book before midnight the day before you'd like to visit.
Some areas are closed or operate differently - limited access to indoor areas, aviaries or flamingo houses closed. Some hides are closed completely because they're just too small.
Welly Boot Land will open from Saturday 25 July with a coloured wristband. Wrist bands are available on arrival at the admissions desk for your allocated 55 minute time slot Welly Boot Land. The area will then be cleaned ready for the next session.
Berkeley Castle
Cotswold Country Park (water park and beach)
Pre-book online - https://www.cotswoldcountryparkandbeach.com/
The largest in land paddling beach in the UK. Kayaks, sups, BBQs, swimming can all be booked online.
Forest of Dean Adventure Golf
Pre-book by phone or email - 07785 540133 or 07990 958084 or email us at [email protected]
Website: https://www.forestofdeanadventuregolf.co.uk/
Cafe open for take away drinks, ice creams and snacks.
All Things Wild
Pre-book online - https://www.allthingswild.co.uk/
There is now a new entrance (sign posted) when you arrive and one way route operating around the park.
No paper maps will be available, but you can download and print one, showing the new one way route at home before you visit.
At present (July 2020) - "The majority of outdoor play areas are now open, along with the Adventures Barn, Ocean Voyage, Reptile Room, Farmyard Safari Barn, Dino Barn. The Dino Train is now operating. The outdoor animals and dinosaurs remain fully open."
"All indoor play areas will be closed, this includes Jungle Mayhem soft play, indoor beach, Wilbur's Discovery Zone and the Wild Fun Barn (including ride on tractors, indoor football pitch and small soft play). Animal walkthroughs are also currently closed. No itinerary activities, such as Meet the Farm and Animal Encounters will take place."
GoApe
Pre-book online - https://goape.co.uk/
Covid-19 measures include fitting your own harness and.your children's harnesses and trying to keep single households together.
Prices: from £16
Noahs Ark Zoo
Pre-book online - https://www.noahsarkzoofarm.co.uk/
Indoor and outdoor play areas are closed. Take away food available from outdoor kiosks.
Animal food is not available for sale. Contactless card payments only, no cash.
Aztec Adventure
Watersports and Activity centre at Upton Warren, near Bromsgrove
Book online - https://aztecadventure.cinolla.com/aztec/
Twycross Zoo
Pre-book online - https://twycrosszoo.org/
Allocated time slots for arrivals, One way route around the zo0.
Soft play, Butterfly Forest, Wet 'n' Wild and the Tiger Gift Shop are closed until further notice. Take away food and drinks available only.
The Wild Place Project
Pre-book online - https://wildplace.org.uk/
Soft play, Butterfly Forest, Wet 'n' Wild and the Tiger Gift Shop are closed until further notice
Crocodiles of the World
Pre-book online - https://www.crocodilesoftheworld.co.uk/
The Croc Cafe and Croc Shop are open; please pay by debit/credit card. No scheduled talks, feeds or animal handling, but "keepers will be feeding the animals and are always happy to answer you questions."
Birdland
Pre-book a time slot here: https://www.birdland.co.uk/ (but I believe you may also just turn up)
Indoor areas are not open and there are no daily talks or feeds.
Longleat Safari Park
Pre-book onine - https://www.longleat.co.uk/
On arrival show your pre-booked ticket barcode to our self-service scanner. A member of staff will be on hand to answer any enquiries.
July 2020: "As well as our Safari Drive Through, the walk through areas have now reopened to the general public.
This includes Koala Creek, Animal Adventure, Jungle Kingdom, Family Farmyard, Rockin Rhino, Jungle Cruise, Adventure Castle and the grounds and gardens.
... Longleat House, Lorikeet feeding, The Mirror Maze and the Animal Handling Hall which all remain closed."
Bristol Zoo
Pre-book online - https://bristolzoo.org.uk/
Card payments only on site, no cash will be accepted.
Many indoor areas including play areas are closed, takeaways available from kiosks.
West Midlands Safari Park
Pre-book online - https://en-gb.facebook.com/PrimroseValePYO/
July 2020: "The Twilight Cave, Lemur Woods and Goat Park will remain closed until further notice.
The Theme Park will be open with new safety measures. Ride wristbands & tickets are charged extra."
Some animal feeding. The Adventure Theme Park and its rides will be available to guests (charged extra). Some ride vehicles will include empty seats and we ask guests to queue responsibly and maintain at least 1-metre distance from other guests. There will be specialist cleaning on all rides.
Contactless payments.
National Trust
And then there are all the National Trust sites around Cheltenham ... for which half hour time slots can be pre-booked (released each Friday for the week ahead).
National Trust with places to eat/drink:
- Snowshill
The garden, car park, takeaway café and toilets are open. Full Snowshill Manor and Gardens info + booking .
- Crombe
- Hidcote
The garden, Winthrop's Café, and the main shop are open. Hidcote info + booking .
- Newark Park
The garden, estate and cafe are open. Newark Park info .
- Chedworth Roman Villa
The outdoor features of the Villa, West Range building and toilets will be open. Chedworth Roman Villa info + booking .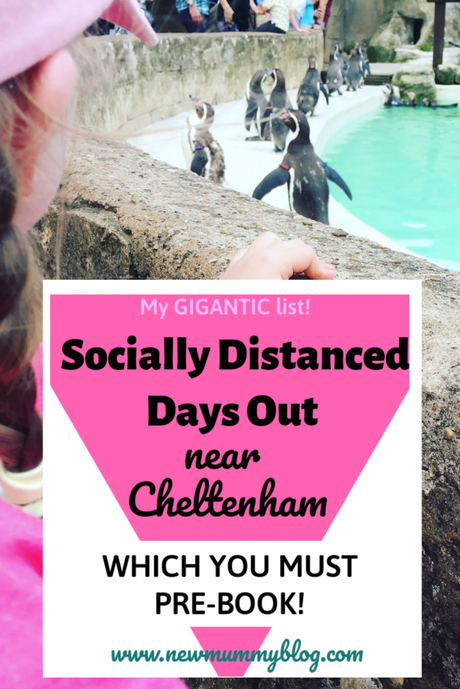 A few places are open which you probably think you'll have to pre-book, but good news, you don't! I'm only including them here so you know I haven't missed them and you can't in fact visit them without being organised!
Perrygrove Railway
Website: https://www.perrygrove.co.uk/
Blaise Castle
FREE, and parking is also free. No need to book! The Blaise Estate café is open for takeaway only.
Info and location here: https://www.bristol.gov.uk/museums-parks-sports-culture/blaise-castle-estate
Catch a Smile
Prices are £5 for children and £8 for adults to fish. Hire equipment and bait - £3 p/person.
FREE to visit the animals, have a picnic or use the cafe (buckets around if you wish to make a donation).
* Due to COVID-19 we are asking that anyone who wishes to fish will either need knowledge of fishing or to come with someone who does as we can't get close due to social distancing.

Cotswold Lavender
Open until the 1st August
Prices: Adults £4, Children £2.
Walks
We are very lucky in Cheltenham and Gloucester to have so many walks on our doorstep as well as the Forest of Dean, Cleeve Hill, Cotswold Way, Dowdeswell Reservoir, Witcombe reservoir, Linover Woods, Robinswood Hill... just turn up and walk. Some have parking charges though!
Do watch the parking charges at Crickley Hill as many seem to be caught out by those cameras - allow lots of time and make sure you drive out before your ticket runs out!