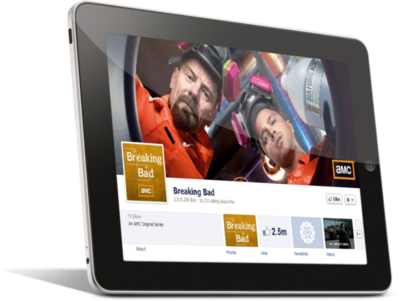 We realised not that long ago that the biggest distraction to our loyal television followship was not outside activity, it wasn't family discussion, it was the mobile phone. We all do it don't we? The moment the show lacks a little something we check our phones. It might not even be the fact that the show is struggling, we might be texting, Facebook messaging or posting something about the show. Either way the trend worried the hell out of the television industry. It was to be the start of a slow death for television.
But like Lazarus, TV has risen to unprecedented levels of viewership and it is largely being attributed to social media and what we call the 'second screen' (phones or tablets). Really the only thing that social media and social TV has killed is probably the traditional TV critic. That's OK by me.
Highlighting social media's role is perhaps the fact that the Superbowl this year became the most watched television broadcast in history. There are a lot of factors that go into that, including the match up but how about these impressive stats – 12.2million social media comments from 5.4million people and GetGlue registered more than 150,000 people checking in.
Social TV in a Nutshell
The social TV influence is increasing, particularly with television producers doing everything they can to engage an audience. For Australian viewers, depending on your viewing preferences, you will have seen some evidence of social TV. SBS in particular has been somewhat of a leader with programs such as QandA taking questions from Facebook and engaging conversation via Twitter. The whole idea behind it, for the television industry is to not sit back and allow the second screens, whether that be the viewers smartphone or tablet distract from the content. Ideally they want to engage the audience to help build sentiment around shows and build audiences. It makes sense.
What's happening in the space?
TV Check-Ins – GetGlue was one of the earliest, if not the first, check-in platform for television. Viewers can reach for their phones or tablets and check-in to the program they're watching and as a reward earn stickers, discounts, etc. It also wouldn't be social TV without the option to share that check-in with your friends/followers on the key platforms including Facebook and Twitter.
TV Apps – Locally, Channel 7 has launched Fango, a smartphone and tablet app that seeks to engage the viewing audience on a more holistic level. Once the app is downloaded you're free to check-in to your favorite program to view official Facebook and Twitter feeds, chat with other fans, vote on polls and you also have the chance to win points, badges and prizes.
Shazam – Technology based around identifying sound and matching it with content. Initially Shazam was a paid smartphone app that was basically a party trick, identifying songs and providing lyrics just by hearing a few seconds of sound. Now the guys at Shazam are partnering with advertisers that seek to transform the alotted 30-second television advertising spot.  Hold your phone near an advertisement and have additional content delivered in the matter of a few seconds.
What does it mean for brands?
A whole lot obviously. The opportunities are going to be amazing even if the technology does not advance or the television industry decides that they've come far enough (highly unlikey).
We do love TV and it was never really going to die a slow death. Television is a content producer and we love content, it's just that the industry needed to think about us a little more and this means engaging us via social media and also giving us the content when and where we want it (online, phones and tablets).
The love for TV is strong or more importantly the love for specific programs is strong. Brands have been involved through advertising, program sponsorship, etc for years but it has been a mutually-exclusive relationship with hordes of individuals via that screen in the living room. With social TV, brands now have the opportunity to get amongst a massive group hug thanks to social TV and forge real brand sentiment that lasts longer than the show's alotted time. Imagine the level of engagement with a program that sees an individual go to the effort to reach out to their phone or tablet to voluntarily spread something about a TV program.
For Australian viewers of 'The Voice' you will have seen Vodafone partnering by branding the onscreen tweets. This is certainly one easy way to get involved. Is there really any significant engagement there? Probably not, just a simple branding exercise.
The challenge and the ensuing opportunities will involve engagement and not just another branding exercise. The key here is to not shoot yourself in the foot by messing with the content too much and concentrate on engaging us via that second screen. This can be done via the TV apps, TV Check-ins and the Shazam method.
Here are a few ideas off the top of my head (does that even make sense?):
FOR SPONSORS
-There's no shortage of Cooking programs these days – Allow viewers to access recipes (including where to buy items?) using check-in technology or Shazam
-Ask for the right to host additional program content on your own website – Send them there via Shazam
-Have viewers check-in to the TV program to access a brand discount or special offer
FOR ADVERTISERS
-Don't limit your 30-second TV commercial to 30 seconds – Use Shazam to deliver 2 minute video, users to product page or better online shopping cart
-Take your advertisement and ask the audience to check-in or even tweet a nominated hashtag within the next 10 minutes to enter a competition
GUERILLA TACTICS
Of course there's always opportunities for the big boys that have the money to sponsor television programs or advertise in prime time but there are opportunities also for the smaller business looking to capitalise. Don't be afraid to try something out of left-field – This is where the big boys don't bother going with their endless pockets of cash.
-Insert your brand into Twitter conversations – Use the official hashtag and engage – But beware you must be smart about it and do so in a positive way
-Start your own unofficial Facebook page for TV programs aligned to your audience
-Host events to create your own local tribe of the program community – For example a bar could screen a popular program and then encourage your customers to tweet about the experience.
-As a restaurant you could implement a special menu on a given evening to match those used on a TV cooking show then promote using official hashtags, etc
Generally, a brand should be looking to the programs that their target audience is watching and work with the providers to engage on a social level to really leverage the opportunity. As with most marketing strategies, this should be across a number of platforms and include TV apps, Shazam-type technology and TV Check-in services.  For what has become bleedingly-obvious to many (not all) is that we have choices and we want to exercise them – If I want to use Channel 7′s Fango I will, if I prefer to earn discounts using Get Glue then that's what I will do.
What does it mean for the average viewer?
Expect to see more of the above as the otherwise conservative programs on TV look to engage with you via your smartphone or tablet. Of course you're also going to see some strategies come to play including some staged 'shocking' moments early in television programs, which essentially cause a spike in online chatter and increased viewers. Increased viewers means increased advertising revenue.
But as a television viewer, we do have some responsibility in this instance, engage where you find value, otherwise we're going to be flooded with ridiculous (sales-based) content and wondering – How did we get here? i.e. Reality TV.
If you're looking for more information on Social TV and the whole 'second screen' development, here's a few articles that I really enjoyed reading along the way.
Facebook a Quiet Second-Screen Giant in Social TV Space?
Talk to the Hand : The Tablet is Changing TV Viewing
'Social TV' Boosts Live TV Viewing
Superbowl Breaks Social TV and Broadcast Records

Quentin AisbettVisit My Website / View My Other Posts