0 Flares
0 Flares
×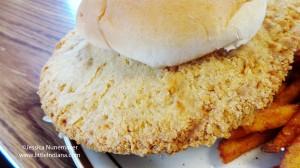 Social's Cafe in Swayzee, Indiana: Pork Tenderloin Sandwich
Traveling solo, I popped into Social's Cafe in Swayzee, Indiana for lunch.
This mom and pop restaurant was exactly what I needed!
Social's Cafe in Swayzee, Indiana
Folks were talking across tables to each other. When someone would enter the Grant County restaurant, the server already knew what they wanted! She also knew everyone by name. Now that's great small town service.
There was lots of chit-chat even across tables. I just love that, don't you? It was such a fun atmosphere to be a part of, especially since I dined alone.
As to the food? Well, let's just say that as soon as I saw that there was a hand-breaded pork tenderloin sandwich on the menu, I couldn't even consider anything else!
Restaurant in Swayzee, Indiana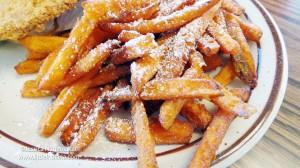 Social's Cafe in Swayzee, Indiana: Sweet Potato Fries
My pork tenderloin sandwich was fantastic! Seriously, it was so, so good!
Want to know what else was awesome? The fries! These weren't just any fries, these were sweet potato fries! Mmm! The dusting of powdered sugar on top made them extra delicious.
I hardly knew where to start first: my sandwich or my sweet potato fries!
Although I'm always down with Changing daily specials keep it interesting for locals in this small Indiana town. Breakfast, lunch, and dinner, Social's Cafe covers all the bases.
Go There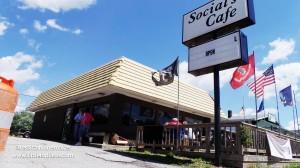 Social's Cafe in Swayzee, Indiana
Swayzee, Indiana might be a super small town but see? It's still worth a visit! You don't want to miss out on that fantastic pork tenderloin sandwich!
Isn't it nice to know that there are still places to go where "everybody knows your name?" Find yours in a small town near you.
I'm Jessica Nunemaker and THIS is little Indiana!
Find pictures in Indiana on my Flickr photostream or on the new little Indiana Tumblr blog.
Just don't forget to tell 'em that  little Indiana sent you!
Social's Cafe 
101 S Washington Street
Swayzee, Indiana 46986
765.922.7993

View Larger Map
Don't miss a moment. Subscribe to little Indiana and receive instant updates to stay on top of everything "little."
little Indiana: Where to Stay, Play, and Eat in Small Towns in Indiana. Discovering Indiana's best small towns! Now get little Indiana on your Kindle.
Targeted. Relevant. Affordable! little Indiana advertising.