Guest Post by Rob Toledo -
In this modern world of web marketing, it should come as no surprise that companies are finding far more value in directing their customers, both current and prospective to social media pages as opposed to static websites.
Full teams of employees are now being dedicated to social media management, who engage and communicate directly with people who are now commonly using Twitter, Facebook and any other number of other new media outlets to connect with businesses.
The realization now is that no longer is a business some unreachable entity, but rather human beings on the opposite side of an internet connection.
But what about small businesses? We don't all have multi-million dollar budgets for social media research and content promotion. And even more than budgeting, a lot of businesses run by only a few people will rarely have the time it takes to run a successful social media campaign.
Unlike countless other facets in the world of new business, social media is an area that automation is very rarely beneficial. There is a need for actual human interaction here, and creating automation won't ultimately be the personal touch that social media offers.
And then there are those of us who just might be lost entirely, with no idea where to start. There are, after all, hundreds of prominent social media applications that are useful across the board for a variety of reasons. So it can quickly become overwhelming trying to figure out what ones to use specifically for your business.
The folks over at Simply Business have created this amazingly detailed guide to social media success. Each heading links to an article by a social media thought leader which can be used to dive in deeper specifically in the areas you feel you need to study the most.
Click the below embedded image to launch the guide: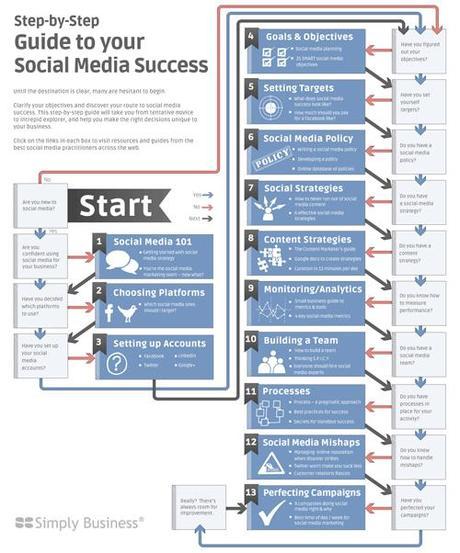 Click image to open interactive version (via Simply Business).
There is plenty for everyone on this flowchart, with articles covering virtually every topic.

Rob ToledoVisit My Website / View My Other Posts
Outreach Coordinator at Distilled UK.