Are you looking out for ways to strengthen the impact of your social media through content you create?
It is not always an easy task to generate the buzz you are looking for
Know what to publish? When and where it can greatly increase the visibility and reach of the viewers?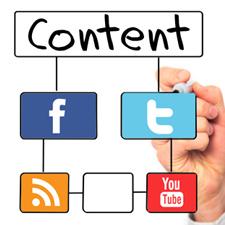 Below points will guide you to create an impact on social networking sites along with content strategy that creates a strong relation with your audience.
Align Content with you Social Media Goals
Understand the goals of your company's social media content delivery to help you develop a more achievable strategy.
If you're looking to generate traffic, your goal should be: unique visitors from social websites where you have run your social media campaigns.

If you're looking to create a following, your goal should be: more subscribers, followers on your social channels like Facebook, Twitter, etc.

If you're looking to generate interaction, your goal should be: quantity and type of Facebook comments, Twitter replies/mentions.

If you're looking to generate revenue (which is the only purpose), your goal should be: the precise $ value of every lead a social media post generates.
Boost your Content Strategy With a Big-Brand Mindset
Small businesses can learn lessons from the big guns on how to approach social media. 3 things that big brands do very well that small business can follow:
Find where their customers talk and run deep.

Create content that people want to talk about.

Use social media to listen to customers.
Nowadays, another interesting thing that is implemented by big–brands is promoting the offer on Facebook, where they have high followers; big-brands only promotes on a platform where they were sure to get higher visibility. By doing this they are simply giving followers an incentive to follow the brand.
Focus on Increasing Daily Updates
Ensuring that your daily posts and updates on social media are reaching by your target audience and increasing higher visibility is an integral part of a content strategy.
There are 3 key tactics:
Frequency: By posting 8-10 times daily on Twitter and 2-4 times on Facebook you can get desired outcome.
Timing: Experts suggest 8 am to 8 pm are the main work hours to tweet and post to Facebook by considering it as good times.
Multiple sites: Along with your our own blog or website also post on other social media platforms for higher reach.
By paying attention to all the minute details that have said above you will able increase the odds of achieving higher levels of social engagement. You can also get the help from Professional social media services for better results.